February 06, 2012
Press Release: CMU Reappoints Susan G. Polansky To Head Modern Languages Department
Contact: Shilo Rea / 412-268-6094 / shilo@cmu.edu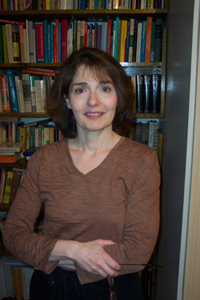 PITTSBURGH—Susan G. Polansky has been reappointed as head of Carnegie Mellon University's Department of Modern Languages. Her second term will begin July 1.
"Susan has effectively led and strengthened the Modern Languages Department's research and education missions," said John Lehoczky, dean of the Dietrich College of Humanities and Social Sciences. "The department plays a crucial role for our students — teaching them to appreciate and understand other cultures as well as preparing them to live and work in our global world. I look forward to working with Susan to further advance the department's strong teaching units and cutting-edge curricula."
During her first term, Polansky, a teaching professor of Hispanic studies, worked to broaden the department's global education initiatives by creating a new Masters Program in Applied Second Language Acquisition, enhancing faculty and student involvement in community outreach activities and increasing study abroad participation. She also led the launch of an Arabic program, which now offers advanced level courses.
Additionally, the department continues to attract students from across the university, reversing a national trend. In a survey of the class of 2009, 52 percent of CMU undergraduate students had taken at least one course in modern languages, compared to an average of only 8.6 percent nationwide.
"It's a pleasure to work with my colleagues in modern languages who achieve excellence in research, teaching and educational service," said Polansky, who joined the CMU faculty in 1986. "I am honored to continue to serve as department head and deeply appreciate the trust and strong support of my department and the college and university administration."
Polansky's own research focuses on Spanish literary and cultural studies, in particular early 20th century writers. She is the author of several books, her most recent being an unabridged, student-friendly edition of the novel "Abel Sánchez" by Miguel de Unamuno and "The Poet as Hero: Pedro Salinas and His Theater." She has published articles in several journals, including Foreign Language Annals and Hispania.
In her second term leading the Modern Languages Department, Polansky plans to keep promoting the humanities, global education and international activities; cultivating the master's degree program in applied second language acquisition; advancing technology-enhanced learning; and promoting community partnerships.
For more information, visit http://ml.hss.cmu.edu/ml/.
###
Pictured above is Susan G. Polansky.