February 29, 2012
Carnegie Mellon Art Professor Launches New Center for PostNatural History
Contact: Lauren Goshinski / 412-268-1533 / laurengo@andrew.cmu.edu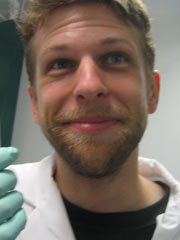 PITTSBURGH—Richard Pell, an assistant professor of art at Carnegie Mellon University, will preside over the grand opening of the Center for PostNatural History (CPNH) at 6 p.m., Friday, March 2 at 4913 Penn Avenue in Pittsburgh.
The CPNH is a new permanent facility dedicated to the research and exhibition of life forms that have been intentionally altered by humans, from the dawn of domestication to contemporary genetic engineering. The postnatural world is presented through diorama, taxidermy, photography and living exhibits, from engineered corn to Sea Monkeys to modified Chestnut Trees to BioSteelTM Goats.
Pell (A'99), director and curator of the CPNH, was awarded a 2011 Smithsonian Research Fellowship. The center was recently in residence at the Smithsonian Museum of Natural History in Washington, D.C., investigating the postnatural hidden within the largest natural history collection in the world.
"The Center for PostNatural History serves as a jumping-off point for thinking about how people shape the living world around them," Pell said. "Humans have been slowly domesticating plants and animals for thousands of years and during the last 35 years we've begun altering the DNA of organisms in very specific ways. A good portion of the living world is in a sense a cultural artifact reflecting the desires, needs and fears of human society. The CPNH is a place to explore that idea."
Lead scientific adviser Lauren Allen said, "The CPNH is an ideal venue to experience the intersection of humanity and biological sciences."
The CPNH also hosts postnatural exhibits by guest researchers. "We are currently displaying a poster series produced by the Center for Genomic Gastronomy, which catalogues the diversity of genetically modified fruits and vegetables that are available in the U.S. and European Union," Pell said. "In May we will debut an exhibit about the Svalbard Global Seed Vault produced by a group of American and Norwegian researchers who spent several weeks visiting the worlds largest repository of domesticated food crop seeds."
The Center for PostNatural History (http://www.postnatural.org/) will be open from noon to 6 p.m. Sundays and for select events. Appointments may be made by contacting the CPNH at 412-223-7698, or by email at rich@postnatural.org.
       

 ###

Pictured above is Richard Pell.