February 20, 2012
News Brief: Joe W. Trotter Co-Authors Book On Legendary Photographer Teenie Harris; Book Launch Party Feb. 28
Contact:
Shilo Rea / 412.268.6094 /
shilo@cmu.edu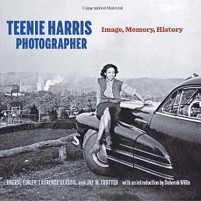 The photography of Charles "Teenie" Harris, famous for capturing the essence of African-American life in Pittsburgh, is chronicled in a new book "
Teenie Harris, Photographer: Image, Memory, History
," co-authored by CMU's
Joe W. Trotter
, the Giant Eagle Professor of History and Social Justice.  Cheryl Finley, assistant professor of art history at Cornell University, and Laurence Glasco, associate professor of history at the University of Pittsburgh also co-wrote the book.
"Teenie Harris, Photographer" was published in collaboration by the
University of Pittsburgh Press
and the
Carnegie Museum of Art
and reflects the art museum's archive of Harris' photography. Part of the museum's permanent collection, the photographs represent one of the most important documentaries of 20th century African-Americans and their communities.
Trotter studies African-American history, U.S. Urban life and labor issues. His most recent book prior to "Teenie Harris, Photographer" was "
Race and Renaissance
," co-authored by CMU history research associate
Jared Day
, was the first major chronicle of Pittsburgh's African American's after World War II.  Trotter is also the director of CMU's
Center for Africanamerican Urban Studies and the Economy
(CAUSE), which aims to link the historian's interest in race, work, and economic change over time with contemporary analyses of the urban labor force, employment policies, and community development.
The University of Pittsburgh Press and Office of Public Affairs are hosting a launch party for "Teenie Harris, Photographer" as part of the university's 2012 Black History Month celebration. Trotter and Glasco will both speak. The event will take place on Tuesday, Feb. 28 at the Twentieth Century Club with an informal gathering at 5:30 p.m., a reception at 6 p.m. and a book signing and reception at 7:30 p.m.  The launch party is open to the public, but attendees must register ahead of time at 412-624-4147 or
frontdesk@umc.pitt.edu
. For complete details, visit
http://www.upress.pitt.edu/htmlSourceFiles/THInvitation.htm
.