December 11, 2012
Press Release: Carnegie Mellon's Alison Barth Receives Memory and Cognitive Disorders Award From McKnight Endowment Fund for Neuroscience
Three-year, $300,000 Award Will Support Her Study of How Experience Transforms Neurons
Contact: Jocelyn Duffy / 412-268-9982 / jhduffy@andrew.cmu.edu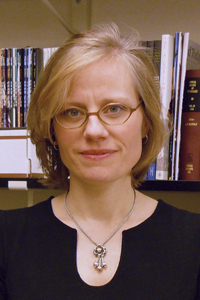 PITTSBURGH—Carnegie Mellon University Associate Professor of Biological Sciences Alison Barth has received a 2013 Memory and Cognitive Disorders Award from the McKnight Endowment Fund for Neuroscience. Barth is one of four researchers to receive the award.
The Memory and Cognitive Disorder awards support innovative research by U.S. scientists who are exploring new ways to diagnose, prevent and treat neurological and psychiatric diseases, especially those related to memory and cognition. The awards encourage projects that link basic and clinical neuroscience with the long-term goal of helping to translate laboratory discoveries into diagnoses and therapies for brain disorders.
Barth will use her award, which will provide $300,000 of funding over three years, to study how experience transforms the connections between neurons as well as the neurons themselves. These transformations are thought to play a key role in how the brain codes for learning and memory. In her work, Barth will make electrophysical recordings of neurons in the cerebral cortex to identify which neurons become changed by experience. Unlike previous studies that have used artificial stimuli to drive such changes in synaptic strength, Barth will focus on using the natural activity of the circuit to drive neuronal plasticity.
"Current predictions about how individual neurons can be changed by experience have come up short when applied to real problems in the normal brain," Barth said. "We won't be able to understand how cognitive disorders can impair memory until we understand how memory is normally encoded. And to do this, we have to be able to detect what is happening to individual neurons during learning."
The awards reflect the interests of William L. McKnight, who founded The McKnight Foundation in 1953 and wanted to support research on diseases affecting memory. His daughter, Virginia McKnight Binger, and The McKnight Foundation board began funding neuroscience in 1977, and the McKnight Endowment Fund for Neuroscience was established in 1986.
      

###
Alison Barth (pictured above) will use her three-year, $300,000 award to study how experience transforms the connections between neurons as well as the neurons themselves.