August 16, 2012
Photo Advisory: Carnegie Mellon Welcomes First-Year Students to Campus Aug. 19
Contact:
Abby Simmons / 412-268-4290 /
abbysimmons@cmu.edu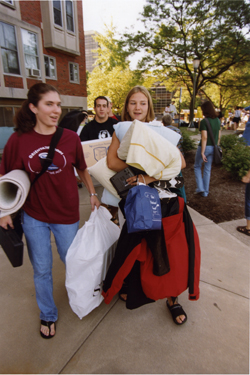 PITTSBURGH-Carnegie Mellon University will welcome approximately 1,420 first-year students to campus on move-in day, Sunday, Aug. 19. This year's orientation will introduce incoming students to Carnegie Mellon, Pittsburgh and each other through a weeklong series of events on and off campus. Some highlights of the week include:     
Move-in Day, 9 a.m.-2 p.m., Sunday, Aug. 19, Campus Housing and Oakland Apartments
First-year students will unload their cars and move into campus housing with the help of families, friends and Carnegie Mellon staff and students. (Margaret Morrison Street and Tech Street will be closed to accommodate students, as well as Morewood Avenue between Forbes and Fifth avenues.) In previous years, a majority of students arrived between 9 and 11:30 a.m.
Playfair, 8:30-10 p.m., Monday, Aug. 20, The Cut (outdoors, next to the University Center)
Billed as "the largest icebreaker ever," Playfair marks the first time the Class of 2016 will assemble as a group. Video from Playfair 2011 is available on
cmuTV's YouTube channel
.
Convocation, 5-6:10 p.m., Thursday, Aug. 23, Baker Hall Lawn Tent
Faculty, staff and students will gather to celebrate the arrival of the Class of 2016.       
For more on orientation, visit
http://www.studentaffairs.cmu.edu/first-year/orientation/
.
###
About the Class of 2016:
As of this advisory distribution date, Carnegie Mellon's first-year class on the Pittsburgh campus is anticipated to be approximately 1,420 students from 37 countries and 46 states. International students make up about 16 percent of the class, while U.S. citizens make up about 84 percent of the class. Among U.S. citizens, about 50 percent are from the Middle Atlantic states (including 15 percent from Pennsylvania). The West claims approximately 18 percent of the first-year class, while the South claims 12 percent and New England claims 9 percent. Approximately 6 percent are from the Midwest, while about another 6 percent are from the Southwest.
More than 100 first-year students are expected to enroll at Carnegie Mellon's Qatar campus. Statistics on first-year students at the Qatar campus will be available Sept. 8 once registration is completed.