April 30, 2012
Obituary: Entrepreneur Curt Stone Advanced Quality of Life Technologies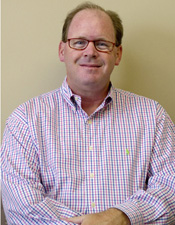 Curt Stone, a Carnegie Mellon University executive-in-residence and the founder and former director of the QoLT Foundry, died suddenly Thursday evening. A memorial service was on Monday morning at Fox Chapel Presbyterian Church.
Mr. Stone, 50, was a highly inventive, seasoned medical device industry entrepreneur with 25 years experience in finance, product development, business development, strategic relationships, marketing and sales. At the QoLT Foundry, part of the Quality of Life Technology Center, he identified, evaluated and advanced technology for near-term commercial opportunities.
Prior to joining CMU, he founded a company that developed and commercialized a medical device from technology he invented. He has successfully launched more than a dozen new medical device products, and has been awarded several patents for innovations. He has served as an integral member of executive management teams for several early-stage and medium-sized companies, specializing in strategic development, marketing and product development for domestic and international markets.
A graduate of Shady Side Academy, he earned a degree in economics at St. Lawrence University. He is survived by his wife and two children.