April 11, 2012
News Brief: Electric Car Challenge To Make Pit Stop at Carnegie Mellon
Contact: Byron Spice / 412-268-9068 / bspice@andrew.cmu.edu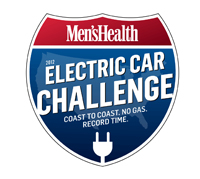 Men's Health magazine is sending a team of drivers across the country in an all-electric Ford Focus and will be stopping at Carnegie Mellon's Electric Garage Thursday afternoon to recharge. The 2012 Electric Car Challenge began April 11 at the New York International Auto Show and, if they arrive as planned in Los Angeles on April 22, will establish a record for the fastest coast-to-coast drive in an electric car.
The team estimates it will arrive in Pittsburgh in early-to-mid-afternoon on Thursday. The team is providing updates on its website, menshealth.com/ElectrifyUS,  and via Twitter @MHTechLust (#ElectrifyUS).
The Ford Focus Electric will make use of one of six electric vehicle charging stations that have been installed outside of the Electric Garage on Forbes Avenue. Those charging stations are available 24/7 for use by the public. They and two additional stations are made possible by a grant from the state Department of Environmental Protection's Alternative Fuels Incentive Grant Program.
The Electric Garage, a converted gas station, is home base to ChargeCar, an electric vehicle research project of the Robotics Institute's CREATE Lab.