September 28, 2011
Press Release: Doing Good in a Bad World — Carnegie Mellon School of Drama's Production of "Good Person of Setzuan" Runs Oct. 6-15
John Wells Visiting Professor Peter Kleinert To Direct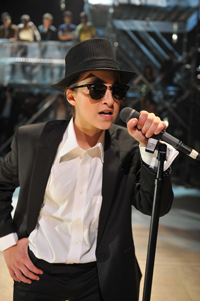 PITTSBURGH—The School of Drama at Carnegie Mellon University will present "Good Person of Setzuan" by Bertolt Brecht Oct. 6-15 in the Philip Chosky Theater in the Purnell Center for the Arts on the CMU campus.
Adapted by Tony Kushner from a translation by Carnegie Mellon's own Wendy Arons, the performances will be directed by internationally renowned German director Peter Kleinert, with musical direction by Jürgen Beyer. Arons is an associate professor of dramatic literature in the School of Drama.
"Good Person of Setzuan" explores the notion of good and evil when three gods arrive on earth in search of one "good" person.
"It's a parable with an easy message — you cannot be good in a bad world," says Kleinert. Brecht asks if an individual's capacity for good still exists in a world riddled with iniquity, avarice and envy. If it does, what would such a person look like? If it does not, what are the consequences for society?
Peter Cooke, head of the School of Drama, was introduced to Kleinert's work when in 2009 he saw his production of "The Threepenny Opera" in Sydney, Australia, with the National Institute of Dramatic Arts. With the recent gift of The John Wells Visiting Professorship in Directing, Cooke was able to bring Kleinert and Beyers to CMU from Berlin. The School of Drama also received support from the Goethe-Institut for this production.
"Peter Kleinert and Jürgen Beyer are both leaders in the world theater scene," says Cooke. "Exposing our students to the theories and practice of such significant international artists is a prime goal of mine — as it broadens their understanding of high quality contemporary dramatic practice."
Through 1987, Kleinert was joint artistic director at the German National Theater in Weimer, where he staged critically acclaimed productions of "Don Carlos," "Hamlet," "Twelfth Night," "Measure for Measure" and "Three Sisters."  Since 1991, he has been professor at the Institute for Stage Direction of the "Ernst Busch" University for Performing Arts in Berlin.
Beyer, Kleinert's longtime collaborator and musical director, composed 20 new songs for this production. Some of the new songs were a direct result of the collaborative process in the rehearsal room.  Beyer says the talent of the student actors encouraged certain creative choices with composition and staging.
"It is a pleasure for me to work with so many great singers," says Beyer, who noted that some of the cast members will be playing their own instruments such as guitar, percussion and keyboards.
Originally a commission for La Jolla Playhouse, Kushner's adaptation of "Good Person" remains quite faithful to the original literal translation by Arons. Kushner's goal with this new version of "Good Person" was to modify Brecht's language to make it more palatable for American audiences.
Even though the adaptation was written in the mid-1990s, Arons feels the play still has relevance during this country's economic difficulties. 
"The play asks, is it possible to be ethical and thrive in a system based on competition for limited resources? Given the state of the economy and ecology in this country, that's a pressing question. How will we equitably manage and share the resources available to us?" Arons asks.  
With this production of "Good Person of Setzuan," Kleinert hopes to show audiences a different side of this renowned playwright. "I want people to say, 'I didn't know Brecht was funny,'" he says.
Ticket prices begin at $15 for adults and $10 for students.  For show times, complete ticket prices and ticket orders, call the School of Drama box office at 412-268-2407 or visit www.drama.cmu.edu.
Pictured above is Ava DeLuca-Verley, who plays SHEN TE. Photo by Louis Stein.