September 16, 2011
Press Release: Carnegie Mellon School of Music Launches 100th Anniversary Season
Centennial Concerts, Live Taping of NPR's "From the Top," Legendary Pianist Byron Janis Highlight School's Calendar
Contacts: Teresa Thomas, Media Relations / 412-268-2900 / thomas@cmu.edu
Kathryn Heidemann, School of Music / 412-268-4921 / heidemann@cmu.edu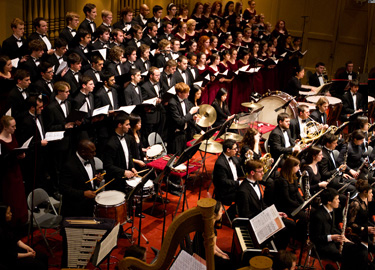 PITTSBURGH—Carnegie Mellon University's School of Music's 2011-2012 season features more than 250 events and includes some of the biggest names in the music world — as well as the big names of tomorrow.
The season opens next week with an ambitious collection of diverse programming, kicking off at 8 p.m., Sept. 19 with a lively Percussion Extravaganza, a multi-media showcase featuring the talents of the percussion and collaborative piano students. The audience-friendly, but challenging program will include works by Steve Reich, Andy Akiho, John Cage and George Antheil.
The School of Music's major ensembles will showcase a wealth of musical talents throughout the year. The ensembles include the Carnegie Mellon Philharmonic, Ronald Zollman, music director; Wind Ensemble, Denis Colwell, conductor; Repertory Chorus and Concert Choirs, Robert Page, conductor; Jazz Orchestra, Eric DeFade, director; Symphony Orchestra, Ronald Zollman, music director; Chamber Orchestra, Ronald Zollman, music director; Jazz Vocal Ensemble, Thomas Douglas, director; Guitar Ensemble, Jim Ferla, director; and the Contemporary Ensemble, among others. 
Opera productions will include "or Angelica" (Puccini) and "Mahagonny Songspiel" (Weill/Brecht) and "L'Enfant et les Sortileges" by Maurice Ravel.
Legendary concert pianist and National Ambassador to the Arts for the Arthritis Foundation Byron Janis will present at the School of Music Convocation (1:30 p.m., Thursday, Sept. 22), attend a reception and screening of the documentary "The Byron Janis Story" (7 p.m. Thursday, Sept. 22), and teach a masterclass (3 p.m., Friday, Sept. 23). All three events, free and open to the public, take place in the Kresge Theatre in Carnegie Mellon's College of Fine Arts building.
On Valentine's Day, Feb. 14, the School of Music welcomes National Public Radio's "From the Top with Host Christopher Riley" for a live taping at 8 p.m. in Carnegie Music Hall in Oakland. Some of the outstanding young artists from CMU's preparatory school and from around Pittsburgh will perform in the show, which will be broadcast across the country - locally it is heard regularly on WQED 89.3 FM. From the Top's 2011-12 National Tour is sponsored by U.S. Trust and Bank of America Private Wealth Management.
The School of Music will celebrate it's 100th anniversary by bringing back some of its most prestigious alumni and guests for the Carnegie Mellon School of Music Centennial Celebration Concert & Gala, Saturday, March 31 at the Benedum Center in Pittsburgh, and Monday, April 2 at the Carnegie Hall Stern Auditorium in New York City. These concerts will feature the Carnegie Mellon Philharmonic and Choirs and distinguished guest artists, including Metropolitan Opera Tenor Jeffrey Behrens and Baritone Liam Bonner; Chicago Symphony Orchestra Principal Horn Dale Clevenger; actor, singer and star of "Jersey Boys," Graham Fenton; Seattle Symphony Orchestra Associate Concertmaster Emma Hancock McGrath; New York Philharmonic Principal Horn Philip Myers and Horn Howard Wall; and actress and star of "Ragtime and Jekyll & Hyde," Christiane Noll.
Download the 2011-12 School of Music schedule.

###
Pictured above is the Carnegie Mellon Philharmonic and Choirs.