September 15, 2011
Press Release: Carnegie Mellon To Partner With Rwandan Government for Development of Graduate Engineering Degree Programs
Rwandan President Paul Kagame To Speak at CMU Friday, Sept. 16
Contact:
Chriss Swaney / 412-268-5776 /
swaney@andrew.cmu.edu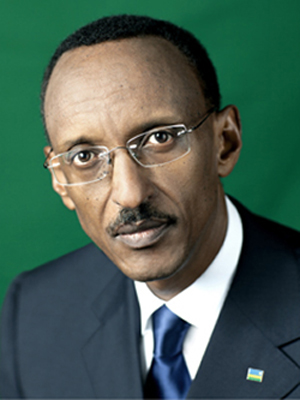 PITTSBURGH—Carnegie Mellon University will extend its global academic footprint as the first major higher education institution in the U.S. to offer graduate engineering degree programs in Rwanda, a tech-savvy East African country building a knowledge-based economy.
Carnegie Mellon will establish and operate an academic program in Kigali, Rwanda, initially offering a Master of Science in Information Technology program. In addition to the academic program, Carnegie Mellon University in Rwanda will collaborate with the Government of Rwanda to develop an innovation incubator, advanced practical training programs, executive education programs and a mobility research center.
Paul Kagame, president of the Republic of Rwanda, and Carnegie Mellon President Jared L. Cohon will formally acknowledge the partnership with a ceremonial signing at 5 p.m., Friday, Sept. 16 in Rangos Ballroom in CMU's University Center. Following the signing, Kagame will give a keynote address about Rwanda's role as East Africa's leading information and technology hub and the new collaborative relationship with Carnegie Mellon.
"Higher education is a key to success in the global economy," Cohon said. "We are pleased to bring our expertise in mounting international programs and our culture of innovation to Rwanda and to contribute to the country's emergence as a regional technology hub."
"We selected CMU because its great academic and research reputation fits nicely with Rwanda's vision of becoming an information and communications technology-led economy, and is completely in line with our goal of training a critical mass of IT professionals with an innovative and entrepreneurship mind," said Rwandan Minister of Education Pierre Damien Habumuremyi.
Rwanda has doubled the size of its economy in the past nine years, and is working to be a technology hub for the entire East African region, including, Kenya, Tanzania, Burundi and Uganda.
In 2007, Rwanda was named East Africa's leading information and communications technology (ICT) nation by the United Nations and has continued to spearhead ICT development in the region.
"This is a wonderful opportunity to help a young nation grow and to impart some of the successful educational and research processes so critical to the continued viability of global research institutions like CMU," said Pradeep K. Khosla, the Dowd University Professor and head of CMU's
College of Engineering
. "Our objective is to enroll approximately 40 students for the initial fall 2012 class, growing to about 150 by 2017."
The Carnegie Mellon Rwanda program will be directed by
Bruce H. Krogh
, professor of electrical and computer engineering at CMU.
Michel Bezy
, a distinguished service professor in CMU's Department of Engineering and Public Policy, will be the program's associate director.
Students at the Carnegie Mellon Rwanda program will meet the same strict admission standards used at the university's main campus in Pittsburgh. While the new Carnegie Mellon Rwanda program is open to students worldwide, the program will primarily target students from the East African community with admission preference given to Rwandan citizens.
Students also will participate in internships with enterprises and companies in Rwanda or neighboring countries.
For additional information about the new Carnegie Mellon Rwanda program please visit:
http://www.cmu.edu/rwanda
.                   
###
Pictured above is Rwandan President Paul Kagame.