September 12, 2011
Press Release: Legendary Pianist Byron Janis Visits Carnegie Mellon School of Music
World-famous Musician and National Arthritis Foundation Spokesman To Teach and Host Screening of His Remarkable Story, Sept. 22-23
Contacts:  Teresa Thomas, Media Relations / 412-268-2900 / thomas@cmu.edu
Kathryn Heidemann, School of Music / 412-268-4921 / heidemann@cmu.edu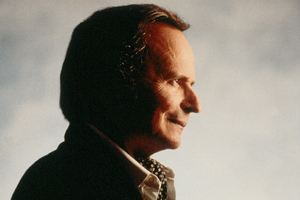 PITTSBURGH—Byron Janis, one of the world's most beloved and renowned concert pianists who has continued to perform despite psoriatic arthritis in both hands and wrists, will visit Carnegie Mellon University's School of Music Sept. 22-23.
The public is invited to join School of Music faculty and students as they learn about his life and gain insight into his musical talents during three events over the two days.
Janis will be presenting at the School of Music Convocation at 1:30 p.m., Thursday, Sept. 22.
At 7 p.m., Sept. 22, a screening of the documentary "The Byron Janis Story" will be held followed by a reception with Janis, hosted by Dick and Ginny Simmons. Dick Simmons, a former adjunct professor at CMU's Tepper School of Business, is chairman and life director of the Pittsburgh Symphony, Inc.
At 3 p.m., Friday, Sept. 23, Janis will give a masterclass.
All events, free and open to the public, will take place in Kresge Theatre in CMU's College of Fine Arts building.
A native of the Pittsburgh area, the 82-year-old Janis has been one of the world's most sought-after concert pianists since his Carnegie Hall debut in 1948. His lengthy catalog of classic recordings includes critically lauded releases of Rachmaninoff and Chopin, and two recordings in Philips' "Great Pianists" series. After being diagnosed with severe arthritis, Janis refused to allow the disease to slow down his career, and in 1986 he was named National Ambassador to the Arts for the Arthritis Foundation - a position he still holds today.
"Few musicians have the kind of historical and musical pedigree that Byron Janis does," says Noel Zahler, head of the School of Music. "He is a representative of one of the greatest generations of American musicians, and remains an important and inspiring performer to this day. But Janis is also an individual who shows that music can transcend borders and even help to heal - his is a legacy that all of us in the arts might aspire to."
About Byron Janis
Born in McKeesport, Pa., in 1928, Janis' extraordinary musical talent was already apparent by age 5, and his family moved him to New York City to study piano. At 16, Janis performed a concert under the baton of teenager Lorin Maazel with the Pittsburgh Symphony Orchestra. Among those who heard the concert and were wowed by this prodigy's talent was the legendary Vladimir Horowitz, who soon made Janis his first official student when the young pianist was only 17.
Janis departed from his studies with Horowitz and made his Carnegie Hall debut at age 20 in 1948, and thus began the life of a touring virtuoso. Recordings soon followed for the RCA/Victor label, some of which have been re-released through the "Great Pianists" series. In the 1960s, at the height of his performing career, Janis recorded critically lauded pieces for Mercury records. Also in the late 1960s, Janis became inexorably tied to Frederic Chopin, when the pianist discovered two previously unknown Chopin manuscripts.
In 1973, Janis developed psoriatic arthritis in both hands and wrists, yet continued to consistently perform, and even record, at the highest level. In 1986, the Arthritis Foundation named Janis its official spokesman as National Ambassador to the Arts.
Janis lives in New York City with his wife, Maria Cooper Janis, a painter and daughter of film star Gary Cooper. His story is documented in the documentary film "The Byron Janis Story," and in his autobiography, "Chopin and Beyond."
For more information about these events please visit www.music.cmu.edu or call 412-268-2383.
###
Pictured above is Byron Janis.