October 06, 2011
Press Release: Carnegie Mellon's Michael E. McHenry Leads Team Developing New Materials and Processes To Improve Power Invertors for Industrial Transformers
Team Receives $1.7 Million Grant From Department of Energy for Outstanding Research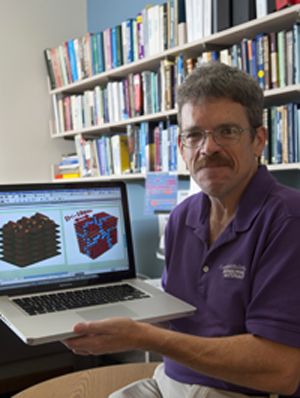 Contacts: Chriss Swaney / 412-268-5776 / swaney@andrew.cmu.edu / Karen Hoffman / 412-916-4509 / hoffkar@pitt.edu
PITTSBURGH—Carnegie Mellon University's Michael E. McHenry and colleagues have received a three-year, $1.7 million grant from the U.S. Department of Energy to develop new materials and processes for improving the efficiency of multi-core transformers. The work is expected to impact the economic success and global competitiveness of America's manufacturing sector.  
"This research will ultimately help make power transformation in renewable energy conversion more economical and efficient in our complex energy grid system," said McHenry, a professor of materials science and engineering at Carnegie Mellon. "Our work aims to bridge materials development, manufacturing, component design and economic analysis in one cohesive multidisciplinary team."
To develop this advanced new technology for lightweight, solid-state, medium voltage energy convertors for large-scale energy grid transformers, McHenry tapped experts from academia, industry and the Los Alamos National Lab in New Mexico.
"This research is critical to developing high frequency inductors that can ultimately reduce the cost of site preparation and installation for large-scale power transformers," said Joe Huth, a team member and head of research at Pittsburgh-based Spang Inc., a world leader in the production of soft magnetic materials and cores for industrial control applications.    
For more than a decade, McHenry has been developing new materials, processes and unique transformer designs for power converters. He reports that this research could help substantially reduce the size of a standard industrial grid transformer.
"In addition to the reduction in size and cost, the new solid-state power converters inherently enable advanced control techniques. These smart power converter substations will help stabilize the grid when a significant fraction of our energy is from renewable resources," said Michael Bland, an engineer and team member from the Los Alamos Lab.
Team member Gregory Reed, professor of electrical and computer engineering and director of the Power & Energy Initiative in the University of Pittsburgh's Swanson School of Engineering, will assess complete systems engineering and turnkey installation aspects of the advanced converter technology for renewable energy applications, including economic impacts. "This grant is an important component of the continued growth of Pitt's electric power and energy research for grid infrastructure efforts, and we are excited to be part of this talented team," Reed said.
"This is both an outstanding award and excellent example of the multidisciplinary, problem-solving environment our faculty promote and develop," said Greg Rohrer, head of CMU's Department of Materials Science and Engineering. "We are extremely proud of Michael McHenry's innovative research initiatives as we seek to transform energy research and education."
###
Pictured above is Michael McHenry.