October 03, 2011
Press Release: Body of Work: Performance Artist Stelarc Explores Humanity's Relationship With Technology
CMU's Human-Computer Interaction Institute and College of Fine Arts Present Lecture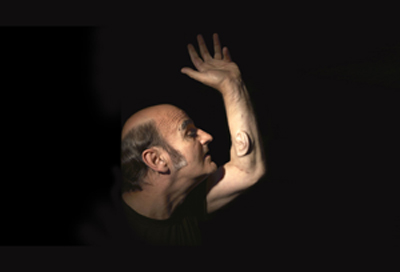 Contact: Byron Spice / 412-268-9068 / bspice@cs.cmu.edu
PITTSBURGH—The performance artist known as Stelarc, who is surgically constructing an extra ear on his arm, has performed atop a six-legged robot and otherwise used his body to explore how technology is redefining what it means to be human, will deliver a public lecture at 4:30 p.m., Wednesday Oct. 5 in the Rashid Auditorium of Carnegie Mellon University's Gates and Hillman centers.
The lecture, "Alternate Anatomical Architectures: The Cadaver, The Comatose, and The Chimera," will discuss a range of work that is pushing the boundaries of technology and of the human body. It is jointly presented by the School of Computer Science's Human-Computer Interaction Institute (HCII) and the College of Fine Arts. A reception will follow in the new HCII atrium, Newell-Simon Hall 3600.
Stelarc, a professor in the School of Art at Brunel University in West London, was named an honorary professor of art and robotics by Carnegie Mellon in 1997. His visit to campus this week, which will include interchanges with students and an invitation-only performance at The Andy Warhol Museum, is indicative of the university's growing fusion of art and science.
Stelarc has used medical instruments, prosthetics, robotics, virtual reality systems, the Internet and biotechnology to explore alternate, intimate and involuntary interfaces with the body. He has performed with Third Hand, a mechanical, human-like hand; visually probed the inside of his stomach; and mounted Exoskeleton, a six-legged walking robot. His Prosthetic Head an embodied conversational agent that speaks to the person who interrogates it. The Ear on Arm he is surgically constructing on his arm will eventually be Internet-enabled.
The invitation-only performance at The Warhol is an example of Carnegie Mellon's rich partnerships with arts institutions. A weekly CMU School of Art class is being taught at The Warhol and CMU graduate students serve as Warhol interns and complete capstone projects focused on the museum's needs. Additionally, this past summer, The Warhol was the focus of a Carnegie Bosch Institute research project.
###