October 03, 2011
Press Release: Nobel Laureate Rudolph A. Marcus To Present CMU's Second Biennial John A. Pople Lecture in Theoretical and Computational Chemistry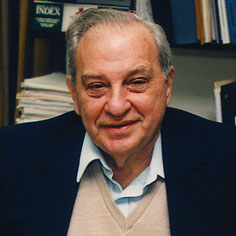 Contact: Jocelyn Duffy / 412-268-9982 / jhduffy@andrew.cmu.edu
PITTSBURGH—Rudolph Marcus, who received the Nobel Prize in Chemistry in 1992 for his contributions to the theory of electron transfer reactions in chemical systems, will deliver Carnegie Mellon University's Second Biennial John A. Pople Lecture in Theoretical and Computational Chemistry at 4:45 p.m., Tuesday, Oct. 4 in the Mellon Institute Auditorium, 4400 Fifth Ave., Oakland.
His lecture, "Developments in the field of electron and related transfers - early and recent," is free and open to the public. It will be followed by a reception in the Mellon Institute lobby.
Electron transfer, the process by which electrons are transferred between molecules, underlies many important chemical and biological phenomena including enzymatic reactions, semiconductor activity, photosynthesis and many others.
During his talk, Marcus will discuss how the electron transfer field has developed over the past 50 years. He will summarize and discuss some of the field's history as well as current directions, including those related to solar energy conversion and intermittent fluorescence of nanoparticles.
Currently the Arthur Amos Noyes Professor of Chemistry at the California Institute of Technology, Marcus's research contributions are in diverse fields such as atom and proton transfer reactions, enzyme catalysis and single-molecule studies of proteins. In addition to receiving the Nobel Prize in 1992, Marcus received the Wolf Prize in Chemistry in 1985 and the National Medal of Science in 1989.
The Biennial John A. Pople Lectures in Theoretical and Computational Chemistry was established by Carnegie Mellon's Department of Chemistry to bring leaders in the field of computational chemistry to campus to honor 1998 Nobel Laureate and former Carnegie Mellon Professor John A. Pople's contributions to science.
Eighteen Nobel Laureates, including Pople, have been affiliated with Carnegie Mellon.
###