October 26, 2011
Press Release: Carnegie Mellon's POP Cabaret Puts a Spell on You at Andy Warhol Museum
Turn-on to Robotic Burlesque! Beware of the Crawling Chaos! Succumb to Magic Spells! Hilarious and Horrifying Thrills Await You, Friday, Oct. 28
Contact: Lauren Goshinski / 412-268-1533 / laurengo@andrew.cmu.edu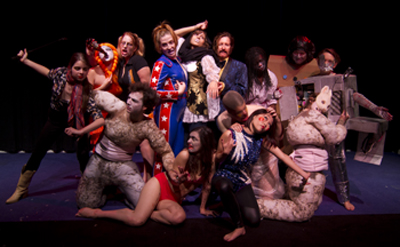 PITTSBURGH—Students in Carnegie Mellon University's School of Art "POP Cabaret" course present "I Put A Spell on You," a free Halloween Variety Show from 7 to 9 p.m., Friday, Oct. 28 at the Andy Warhol Museum, 117 Sandusky Street on Pittsburgh's Northside.
Using the first floor theater at the Warhol as a playground and performance space, students have been creating short solo and group performances throughout the fall semester that will be featured in Friday's show on Oct. 28, and at a closing Winter Holiday Show on Friday, Dec. 16. Themes and strategies on display include: Camp, Lo-Fi Glamour, Neo-Burlesque, Expanded Cinema of the Mind, Alien Vaudeville, Spectacles of Failure, Stand-Up Tragedy, New-Age Jesters, Cosmic Troubadours, Psychedelic Bards, Beautiful Noise, Imploding Vinyl Escapable and Exotic Masquerade.
Performers include Adelaide Agyemang, Harrison Apple, Julia Cahill, Murphi Cook, Kinji Cheri Ho, Chelsea Lupkin, Julie Mallis, Ippei Mori, Stephanie Ross, Tim Sherman, Ann Stone, Mitsuko Verdery, and Sonny Topaz as host.
"Pop Cabaret: Performance Art at the Andy Warhol Museum," an advanced level electronic and time-based media course, is a first-time collaboration around a college course for the Warhol and Carnegie Mellon. Associate Professor of Art Suzie Silver teaches the course and she draws from her personal background in performance art for the class, encouraging students to draw from club and cabaret performance.
"I thought it would be a good idea to get the students off campus, and Curator of Performing Arts Ben Harrison helped to make this possible at the Warhol," Silver said. "Knowing they have to put on two big public performances this semester has been a fantastic motivator to keep students engaged and committed. The Warhol's environment makes it feel less like a class with traditional structures and hierarchies, and more like a performance troupe, like Mickey Rooney and Judy Garland getting all their pals together and exclaiming 'hey, let's put on a show!'
"There are multiple reasons why we are focusing on club and cabaret-type performances, but the Pop Art focus of the Warhol and the wonderful, permissive vibe that exists there reinforces that these are performances that can be done almost anywhere," Silver explained.
In this classroom/museum format, Silver and her students say audiences will experience Pop Cabaret performances inspired by vaudeville, dance hall and burlesque, Futurists, Dada, some Fluxus and Pop Art, and the downtown New York City performance scene of the 1980s and 1990s. Silver said the audience should expect humor and playfulness and at the same time intelligence and poignancy in the works that will be presented, noting that there will be "some truly post-everything experiments."
A typical week sees students generating and work-shopping solo and group performances. With a strict focus on the performer and experimentation with multiple techniques, students are challenged to create stripped-down character studies and develop multiple acts of five minutes or less. Readings, theater games, exercises, and dancing are part of the morning routine in the museum, with every Friday afternoon showcasing new performances.
Silver's own background in performance art comes from her participation in an extraordinary community in Chicago in the late 1980s and early 1990s that centered around Randolph Street Gallery, Name Gallery and Club Lower Links, hosting artists such as Karen Finley, Peggy Shaw/Lois Weaver, Dominique Dibbel, Ron Athey, Vaginal Davis, Guillermo Gomez Pena, Tim Miller, Diamanda Galas, and many more who defined a new generation of performance art that merged with daily life, pop culture, politics, globalization, and evolving post-AIDS concerns of gender, sex and the body.


###