October 26, 2011
Press Release: Carnegie Mellon's Newell R. Washburn Tapped To Participate in National Academy's Frontiers of Engineering Education Symposium
Researcher Recognized for Cutting-Edge Work in the Classroom
Contacts: Chriss Swaney / 412-268-5776 / swaney@andrew.cmu.edu
Jocelyn Duffy / 412-268-9982 / jhduffy@andrew.cmu.edu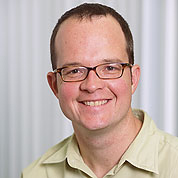 PITTSBURGH—Carnegie Mellon University's Newell R. Washburn, who is developing new experiential tools to teach technological innovation and entrepreneurship, will join more than 60 of the nation's brightest young engineering researchers and educators Nov. 13-16 at the National Academy of Engineering's (NAE) third Frontiers of Engineering Education (FOEE) Symposium in Irvine, Calif.
"This is a wonderful opportunity and a great way to network with some of my research colleagues nationwide," said Washburn, an assistant professor of chemistry, biomedical engineering and materials science and engineering.
This year's program will focus on teaching, project-based learning, active and self-directed learning, assessment of student learning and innovation in education.
"We want our engineering and science students to be engaged and excited about learning and applying what they learn to the real world," Washburn said.
"In our increasingly global and competitive world, the United States needs to marshal its resources to address the strategic shortfall of engineering leaders in the next decades," said Edward F. Crawley, FOEE planning committee chair and the Ford Professor of Engineering at MIT.
The United States is producing a far smaller number of engineers per capita after almost 20 years of economic growth, according to the American Society for Engineering Education. Fewer than 5 percent of all bachelor's degrees awarded in the U.S. in 2004 were in engineering. By contrast, in 1990, China graduated more than 200,000 engineers — 44 percent of their undergraduate degrees.       

###