October 18, 2011
Press Release: Carnegie Mellon University's Virgil Gligor Recognized for Outstanding Privacy and Security Research
Contact: Chriss Swaney / 412-268-5776 / swaney@andrew.cmu.edu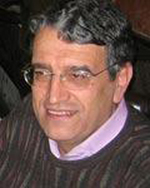 PITTSBURGH—Carnegie Mellon University's Virgil Gligor will receive the Outstanding Innovation Award for computer privacy and security expertise today (Oct. 18) at the annual meeting of the Association for Computing Machinery (ACM) in Chicago. 

"I'm extremely honored to receive this award as I continue to focus on how to design and implement trustworthy computing systems," said Gligor, co-director of Carnegie Mellon CyLab and a professor of electrical and computer engineering. "It is an honor to be recognized by my peers."
The ACM has more than 100,000 members in 190 countries. Gligor receives the award from the ACM's Special Interest Group on Security, Audit and Control. The seventh annual award recognizes Gligor's innovations in secure operating systems as well as covert channel analysis, intrusion detection and secure wireless sensor networks.
"This is a well deserved recognition of Virgil's seminal contributions to the field of cyber security. His work is so critical to the foundation of a safe, and secure economy and society as more of what we do can be at risk from global cyber threats," said Ed Schlesinger, the Schramm Memorial Professor and head of CMU's Department of Electrical and Computer Engineering.
Gligor's approach includes creating trusted paths beyond logins, verifying input/output legitimacy, establishing accountability and recovery, and securing sender/receiver compliance. Over the past 29 years, his research interests have ranged from access control mechanisms and denial-of-service protection to cryptographic protocols and applied cryptography.
A graduate of the University of California at Berkeley, where he earned bachelor's, master's and doctoral degrees, Gligor serves on Microsoft's Trusted Computing Academic Advisory Board. He also is a consultant to the Burroughs Corp. and IBM, and he was a member of several U.S. government study groups that set research agendas in information security. He received the outstanding paper award at the 1988 Institute of Electrical and Electronics Engineers (IEEE) Symposium on Security and Privacy.
CyLab is the largest university-based research and education center in the world for computer and network security, information security and software assurance. CyLab is located in the university's College of Engineering with campuses in Silicon Valley and Pittsburgh. CMU CyLab establishes public-private partnerships for the research and development of technologies for sustainable, resilient and trustworthy computing and communication systems.
              
###
     
Pictured above is Virgil Gligor.