November 07, 2011
Media Advisory: CMU's Kiron K. Skinner, Renowned National Security and Political Strategy Expert, Available To Discuss GOP Campaign
Contact:  Shilo Rea / 412-268-6094 / shilo@cmu.edu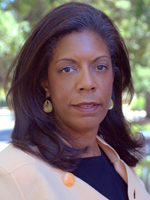 The Story:  On Nov. 22, 2011, the Republican presidential candidates will, for the first time, debate issues of national security and foreign policy. Carnegie Mellon University's Kiron K. Skinner is a leading expert in international relations, U.S. foreign policy and political strategy.
Skinner feels that every American voter needs to know what the presidential hopefuls will do on major national security issues but notes that they have not detailed their plans to this point.
"Since the U.S. is currently in war time, presidential candidates need to tell voters how they will manage the continuing conflicts, insurgencies and terrorist activities and how they will ensure that the U.S. safely exits conflicts," she said.
Skinner, an associate professor of social and decision sciences and director of CMU's Center for International Relations and Politics, serves on the Chief of Naval Operations (CNO) Executive Panel and is a member of the Council on Foreign Relations. From 2001-2007, she was a member of the U.S. Defense Department's Defense Policy Board as an adviser on the wars in Iraq and Afghanistan.
Additionally, she is the coauthor, along with political scientists Serhiy Kudelia, Bruce Bueno de Mesquita and Condoleezza Rice, of "The Strategy of Campaigning: Lessons from Ronald Reagan and Boris Yeltsin," which is now used in political science courses at leading research universities. Skinner is currently advising Newt Gingrich's presidential campaign on national security issues.
Availability: Professor Skinner is available for phone, Skype or on-camera interviews to share more on these topics.
 
CMU TV Studio: We can connect Professor Skinner to your outlet through Carnegie Mellon's state-of-the-art TV studio. Working with Pittsburgh International Telecommunications (PIT), we offer domestic and international connectivity via satellite and fiber. PIT owns and operates one of the largest satellite facilities in the world. Please contact us for more information and to make arrangements.

For more information:  Shilo Rea, 412-269-6094, shilo@cmu.edu

###