May 16, 2011
News Brief: "Pittsburgh Noir"
Crime Book Set in Pittsburgh Features Stories By Terrance Hayes and Hilary Masters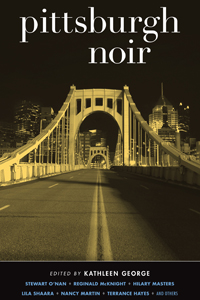 Pittsburgh may be "the most livable city in America," but the new crime book "Pittsburgh Noir" shows the Steel City in a different light through 14 stories from the city's most famous writers, including Carnegie Mellon University English Professors Terrance Hayes and Hilary Masters.

The collection is the latest in the Akashic Noir Series, which launched after the success of the 2004 award-winning bestseller "Brooklyn Noir."  Each book in the series is comprised of all-new fictional stories, each set in a distinct neighborhood within the city of the book.

"Pittsburgh Noir" was edited by Kathleen George, the Edgar Award-nominated author of the Richard Christie novels set in Pittsburgh and professor of theater arts at the University of Pittsburgh.  George wrote in the introduction, "In 'Pittsburgh Noir,' as in most of the novels and films that gave the genre its name, the real story is the dark underbelly of existence, the fear and guilt and rebellion and denial in regular people: the woman buying groceries, the man grilling hot dogs.  Their secret lives..."

She continued, "Here's to the black and gold, the Allegheny, Monongahela and Ohio, Jonas Salk, Thomas Starzel, to Primanti's sandwiches and churches that sell pierogies, to all and everything that makes up the 'burgh."

Hayes, who recently won a National Book Award, contributed "Still Air," which takes place in the city's East Liberty neighborhood.

Masters, an esteemed fiction writer who will publish his 10th novel this year, wrote "At the Buena Vista," set in the Mexican War Streets.

Additional authors include K.C. Constantine, Carlos Delgado, Rebecca Drake, Aubrey Hirsch, Paul Lee, Tom Lipinski, Nancy Martin, Reginald McKnight, Katherine Miller Haines, Stewart O'Nan and Lila Shaara.

Several events are being planned to promote the book and its authors:
Thursday, May 19: Book Launch for "Pittsburgh Noir." 7 p.m., Mystery Lovers Bookshop, 514 Allegheny River Blvd., Oakmont, PA.
Tuesday, May 24: New Yinzer Presents "Pittsburgh Noir" Celebration and Signing.  7 p.m., Round Corner Cantina in Lawrenceville, 3720 Butler St., Pittsburgh, PA.
Friday, June 3: YMCA Northside Presents "Pittsburgh Noir" writers Terrance Hayes, Hilary Masters and Stewart O'Nan. 7 p.m., 600 West North Ave., Pittsburgh, PA.
Thursday, June 9: "Pittsburgh Noir" Readings. 6:30 p.m., Waterworks Barnes & Noble, 926 Freeport Rd., Pittsburgh, PA.
Saturday, June 18: Speaking of Reading Series: "Pittsburgh Noir." 7 p.m. Hazlett Theater, North Side, Allegheny Square East, Pittsburgh, PA.

For more information about the book or to order a copy, visit http://www.akashicbooks.com/noirseries.htm.