May 12, 2011
News Brief: With a Cherry On Top
ETC Students Help Develop Sundae-Dispensing Robot Exhibit at Rochester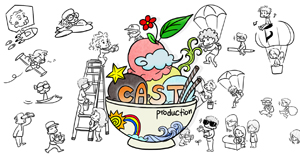 An exhibit about alternative energy sounds noble — and boring. But when students at Rochester Institute of Technology (RIT) teamed with master's students at Carnegie Mellon's Entertainment Technology Center, they cooked up an interactive display that people ultimately would wait 40 minutes or more to experience.
Perhaps it was the water wheel or the windmill that attracted people. Or maybe it was the robot powered by alternative energy that served ice cream sundaes. Whatever the reason, "RITchie's Ice Cream Experience" was a hit at Imagine RIT: Innovation and Creativity Festival, a campus-wide showcase May 7 at RIT's Henrietta, N.Y., campus.
"The RIT students really pulled it all together," said Danielle Holstine, one of six ETC students who served as mentors to RIT students on the project. Guests to the exhibit visited a series of stations, featuring water, wind, geothermal and solar power, where they collected enough energy to power the ice-cream-dispensing robot at the end. "It looked great. Kids really seemed to enjoy it."
The unusual partnership began last fall when members of RIT's College of Applied Science and Technology (CAST) visited the ETC, looking for mentors to help them create a theme-park-style exhibit. Mk Haley, ETC associate executive producer, agreed to help direct them. Holstine and five other ETC students agreed to serve as mentors as a spring elective. They consulted with the RIT students weekly via Skype, made a visit to RIT in March as the exhibit construction began and returned for the May 7 event.
Holstine said the RIT students knew they wanted to build an interactive exhibit that dispensed ice cream. But the ETC helped them think through how guests would interact with the stations and how the whole experience would flow. They provided help in establishing the exhibit's footprint and determining a construction schedule. They also helped the RIT team — which included nutritionists, engineers and industrial designers, among others — to work together across disciplines, something that ETC students learn early.
"It's actually more difficult than you can imagine," Holstine said.
Serving as advisers, rather than advisees, was an unusual experience for the ETC students, she added, but a rewarding one.
ETC student Solip Park designed the project logo.