May 12, 2011
Press Release: Three Carnegie Mellon Students Earn Barry M. Goldwater Scholarships
Outstanding Research and Leadership Support Scholarship Awards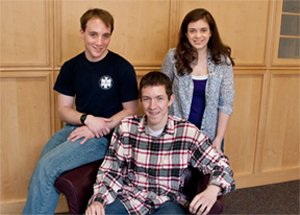 Contacts: Chriss Swaney / 412-268-5776 / swaney@andrew.cmu.edu
Jocelyn Duffy / 412-268-9982 / jhduffy@andrew.cmu.edu
PITTSBURGH—Three Carnegie Mellon University students have received Barry M. Goldwater Scholarships to encourage their pursuit of careers in the sciences. Benjamin Cowley, Robert Tisherman and Stephanie Guerra were among 278 sophomores and juniors nationwide chosen from more than 1,000 nominations to receive scholarships this year. Carnegie Mellon students have earned 13 Goldwater Scholarships since 2007.
     
"We are extremely pleased that three of our outstanding nominees were selected this year because it shows how well everything is working together in terms of academics, research and extracurricular activities," said Materials Science and Engineering Professor Tony Rollett, who worked with the students on their applications. "We are proud of these students and all they have accomplished."
     
Cowley is a junior majoring in electrical and computer engineering from Buckhannon, W.Va. At Carnegie Mellon he is working with Byron Yu, professor of electrical and computer engineering and biomedical engineering, to develop interactive tools that enable visualization of high-dimensional neural data. Neural computation is a scientific enterprise to understand the neural basis of intelligent behaviors from a computational perspective. The study of neural computation includes decoding neural activities using statistical and machine learning technologies, and developing computational theories and neural models of perception, cognition, motor control, decision-making and learning. He wants to further his studies in neural computation.
     
A junior majoring in materials science and engineering and biomedical engineering from Pittsburgh, Tisherman is studying MechanoBiology, a discipline that links the mechanical and biological functions of cells. In particular, he is studying how cells function in tendons, tough extensions of muscles that attach themselves to bones. His ultimate goal is to do orthopedics research.
     
Guerra, a junior majoring in biological sciences and Hispanic studies from Blue Bell, Pa., plans to pursue a doctoral degree in cell or developmental biology. Under the direction of Biological Sciences Professor Charles Ettensohn, she conducts research in the field, studying cellular differentiation in sea urchins. Guerra is an active member of the campus community, participating in the Strong Women, Strong Girls Mentoring Program; serving as president of the Triple Helix, a multidisciplinary student-published journal; working as an EXCEL leader for Academic Development; and as a member of the Biological Sciences Student Advisory Council.
      
"These students come with established research credentials, which is the real testimony to their undergraduate education at Carnegie Mellon; they represent the next generation of leaders in science, technology and engineering," said Stephanie Wallach, assistant vice provost for undergraduate education at Carnegie Mellon. "I also want to applaud the support these students received throughout the application process form our faculty and staff - including advice on writing, strong letters of recommendation and substantive discussions of their research efforts. Our campus takes the nurturing of talent seriously."
     
Goldwater scholars receive one- and two-year scholarships up to a maximum of $7,500 per year for tuition, fees, books, and room and board.
     
The Barry M. Goldwater Scholarship and Excellence in Education Foundation was created to encourage outstanding students to pursue careers in engineering, mathematics and the natural sciences, and to foster excellence in those fields. It was authorized by the U.S. Congress in 1986 to honor Senator Barry M. Goldwater and to support and encourage excellence in science and mathematics. For more information, visit www.act.org/goldwater.
     
###

Pictured above are (l-r) Robert Tisherman, Benjamin Cowley and Stephanie Guerra.