March 24, 2011
Press Release: CMU Alumnus, Hollywood Producer John Wells Makes Gift To Enhance Drama School's Directing Program
Gift Brings Talented Directors to Campus To Work With Students
Contact: Eric Sloss / 412-268-5765 / ecs@andrew.cmu.edu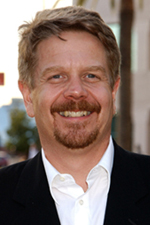 PITTSBURGH—When John Wells graduated from Carnegie Mellon University's
School of Drama
in 1979, he never imagined the opportunities that would come his way to produce Peabody and Emmy award-winning television and film, or the opportunities to return to his alma mater, to connect with students in master classes and to share what he's learned.      
Now, his name will grace the School of Drama's
directing program
. Carnegie Mellon has established the John Wells Directing Program in honor of his accomplishments and in recognition of Wells' recent transformational gift to CMU's directing program.      
"My education at Carnegie Mellon has been a central component of my success," Wells said. "The quality of the education, the interaction with the extraordinary faculty and the classical foundation I received I'm still using every day of my professional life. I'm honored to have been a graduate of Carnegie Mellon."      
Wells is best known for his roles as executive producer of the television hits "ER," "Third Watch" and "The West Wing." He is in the midst of several major projects and recently made his Hollywood film directorial debut with "Company Men," as well as producing the TNT police drama series "Southland" and the Showtime comedy "Shameless."      
"John Wells' commitment to the university is extraordinary," said Carnegie Mellon President Jared L. Cohon. "He has returned to campus frequently to inspire and to teach our current students and he never fails to support alumni as they make their way in the entertainment industry. And now, with this magnificent gift, he has enriched the education of all future directing students."      
The gift from Wells, the amount of which is private, includes The John Wells Visiting Professorship in Directing, which will draw leading practitioners from theater, film and television to direct master classes, give lectures and work with students on productions. The School of Drama also will receive a discretionary fund for Peter Cooke, head of the School of Drama, to subsidize the costs of visits from guest artists, cross-disciplinary symposia and other activities to enrich the school's theater training.      
And finally, the gift will support student fellowships in directing, called "Wells Fellows," that will help the school attract and retain the brightest and most talented students.      
"The director, in many ways, is like a conductor of an orchestra who leads a large diverse group of moving parts," Cooke said. "The director orchestrates the artistic, dramatic, and technical crew to develop the vision for a play, film or television show. The gift will enable the school to continue recruiting the best and the brightest students and train them to be innovative directing practitioners."       
His company, John Wells Productions, is based at Warner Bros. Studios in Burbank, Calif. Wells also was elected president of the Writers' Guild of America, West for the second time in 2009.      
Wells has been nominated seven times for the Writers Guild of America Award and in 2007 received the Paddy Chayefsky Laurel Award for Television for his lifetime achievement for outstanding television writing.      
Shows produced by Wells have received more than 200 Emmy Award nominations and have won more than 50 Emmy Awards. His shows also have received 50 Golden Globe nominations and have won four Golden Globes. Nominated a staggering 24 times for his own contributions on "ER," "The West Wing" and "China Beach," Wells has won six Emmy Awards and shared four others for Outstanding Drama Series for "The West Wing." He's also shared an Emmy for Outstanding Drama Series for "ER" in 1996, and one in the Outstanding Special Class Program category for "The West Wing Documentary Special" in 2002.      
Wells is a five-time winner of the prestigious Peabody Award for "China Beach," "ER," "Third Watch" and "The West Wing." In 2005, he received the Humanitas Prize for his West Wing episode, "NSF Thurmont."  It was Wells' seventh nomination for the Humanitas, which honors TV and films that explore the human condition in a nuanced, meaningful way. For more information about Wells' illustrious career visit
http://www.imdb.com/name/nm0920274/
.      
###
Pictured above is John Wells.