March 22, 2011
Press Release: CMU's Edith Balas Pens Memoir Depicting Life as a Survivor and Scholar
Contact: Shilo Raube / 412-268-6094 / sraube@andrew.cmu.edu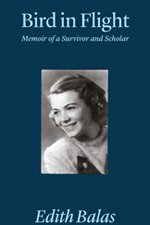 PITTSBURGH—
Edith Balas
, a respected professor of art
history
at Carnegie Mellon University, has endured many hardships throughout her life, including being sent to the Nazi death camp Auschwitz, having her husband disappear after falling from favor with the communists and beating breast cancer five times.  But, Balas did more than just endure — she survived.      
In a new book published by
Carnegie Mellon University Press
,
"Bird in Flight: Memoir of a Survivor and Scholar,"
Balas tells her story of facing grim situations and becoming what she describes as a "professional survivor."      
Balas' story begins in 1944 when her idyllic childhood in the Transylvanian city of Cluj was shattered when Germany occupied Hungary and her family was deported to Auschwitz. Yet, somehow, she escaped the horrors of the Nazi camp.      
"Looking back at my life, there were many difficult events and scenes, but I felt I needed to recount what happened," Balas said. "I wanted young people to know about what happened at Auschwitz and that there is anti-Semitism in this world. It wasn't easy."      
After returning to Cluj, Balas married Egon Balas, a promising young diplomat. Their future seemed really bright until 1952 when Egon fell from Romania's Communist regime's good graces and was arrested. He disappeared for more than two years, and Balas herself became persona non grata.      
When Egon was eventually released, their prospects in Romania were dim, and after a few years, they were able to successfully immigrate to the United States. Since then, Egon has become a celebrated mathematician, and Edith a sought-after art historian and Constantin Brancusi and Michelangelo specialist who has taught at CMU for more than 30 years. She also has authored 10 art history books and curated a number of art exhibitions in Pittsburgh as well as Budapest, Paris and New York.      
Cynthia Lamb, senior editor at CMU Press, noted that "Bird in Flight" unveils more than just details of Balas' survival and her extraordinary accomplishments. "It reveals the emotion, and her enduring effort to triumph over such a difficult beginning, and to maintain these efforts to learn and succeed continually, without pause," she said. "Edith's story, I'm certain, will resonate deeply for many; both for others who were traumatized by the Holocaust and for those who want to understand truths of the Holocaust."      
Balas named her memoir "Bird in Flight" after Brancusi's famous sculpture of the same name. "I consider it emblematic of my life," she said.      
The
photo
on the book's cover was a high school photo taken of Balas when she was 14.  It was recovered by her French teacher inside Auschwitz and is the only thing she has left from her life before.      
"Bird in Flight: Memoir of a Survivor and Scholar" is available for purchase at
http://www.amazon.com/Bird-Flight-Memoir-Survivor-Scholar/dp/0887485383. 
###