March 01, 2011
Press Release: How Do You Design the Future? CMU School of Design's "Transdisciplinary" Speaker Series Explains How
Contact: Eric Sloss / 412-268-5765 / ecs@andrew.cmu.edu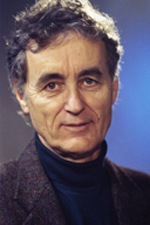 PITTSBURGH—Hit-or-miss inspirations aside, one of the steadiest sources of innovation today is the mindset best described as "design thinking," said Terry Irwin, head of the School of Design at Carnegie Mellon University.
To illustrate the point, this spring the School of Design launches "How Do You Design the Future?" — a lecture series that brings an extraordinarily diverse lineup of influential speakers to CMU.
"These speakers are game-changing, internationally renowned scholars and practitioners," Irwin said. "All of them believe in the power of design thinking. And they're coming to CMU because we're a center of transdisciplinary innovation. We have one of the most respected design programs in the world, which happens to be part of one of the leading research universities in the world."
The speakers include Fritjof Capra, best-selling author of "The Tao of Physics" and "The Turning Point: Science, Society, and the Rising Culture," and an internationally acclaimed physicist, systems theorist and leader in systems thinking; John Thackara, author of the thought-provoking design book "In the Bubble" and founder of the "Doors or Perception" festivals; Lara Penin of the award-winning DESIS Lab at Parsons the New School of Design; Arnold Wasserman, a CMU alumnus who Fast Company magazine named one of the "20 Masters of Design"; Cheryl Heller, whose design practice helps corporations address social and environmental issues, mentors social innovators and entrepreneurs, and brings design-based solutions to the developing world; and Charlie Cannon, founder of the Business Innovation Factory.
"All of these people are working on complex social problems — finding ways to maintain community services as city budgets get slashed, revitalizing abandoned industrial spaces, bringing lessons in sustainability to school kids. They're important transdisciplinary thinkers, collaborating across the traditional boundaries between professions and academic disciplines," Irwin said.
For designers, scientists, people in business and "anyone who will be living in the 21st century," she said, "this is a rare chance to hear thought leaders at the forefront — brilliant people creating narratives that are shifting attitudes in our society."
For more information, visit http://design.cmu.edu/designthefuture. The schedule of speakers is listed below:
Lara Penin
"Design for Social Innovation and Sustainability: DESIS; the Amplify! Project; and Other Stories"
5 p.m., Thursday, March 3
Breed Hall
Cheryl Heller
"Language, Design, and Social Innovation"
5 p.m., Tuesday, March 15
Breed Hall
Charlie Cannon
"Social Innovation: Research and Development After Design"
5 p.m., Tuesday, March 29
Breed Hall
Fritjof Capra
"A Science for Sustainable Living"
5 p.m., Monday, April 4
McConomy Auditorium
Arnold Wasserman
"Thinking About 50 Years of Design Thinking and Why Design Thinking is too Important to Leave to Designers"
5 p.m., Monday, April 18
Giant Eagle Auditorium
John Thackara
Time and Date TBD
###
Pictured above is Fritjof Capra, best-selling author of "The Tao of Physics" and "The Turning Point: Science, Society, and the Rising Culture." Photo by Karl Grossman.