March 18, 2011
Press Release: Carnegie Mellon Electric Car Will Be Unveiled At March 25 ChargeCar Project Open House
Researchers, Local Garages To Create Waiting List for Vehicle Conversions
Contact:  Byron Spice / 412-268-9068 / bspice@cs.cmu.edu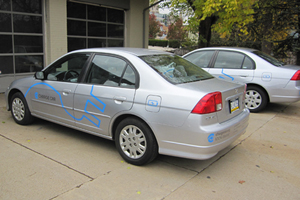 PITTSBURGH—Researchers at Carnegie Mellon University will unveil an all-electric 2002 Honda Civic, the production prototype for their
ChargeCar
Electric Vehicle Conversion Project, and begin taking names of people who want their own converted vehicle at an open house from 3 to 6 p.m., Friday, March 25 at the Electric Garage, 4621 Forbes Ave., in Oakland.      
Representatives of
Baum Boulevard Automotive
and other local garages that plan to offer gas-to-electric conversions will be on hand to discuss costs and other issues. Rides in electric vehicles will be available. Bill Peduto, a member of Pittsburgh City Council, is also on the program.      
ChargeCar is a community-centered project of the Robotics Institute's CREATE Lab. Researchers are working with local mechanics to develop methods and components necessary for efficiently converting electric cars into vehicles that can be used for commuting. Initial efforts have focused on 2001-2005 model year Honda Civics.      
"For now, you can electrify any car you want — as long as it's a Honda Civic," said
Illah Nourbakhsh
, associate research professor of robotics and head of the CREATE Lab. He said other makes and models will be added to the list as the project progresses.      
The production prototype is a 2002 Civic EX four-door sedan. Its conventional powertrain has been replaced with a 35-horsepower electric motor and 33 lithium-iron-phosphate batteries. Its range in mixed urban/highway driving is more than 40 miles and it has a top speed of more than 70 miles per hour.      
The cost of such a conversion is still being determined, but Nourbakhsh said the project team expects to have estimates available at the open house. The cost won't be negligible, he acknowledged, but conversion is a means of recycling and extending the life of older vehicles, while eliminating harmful emissions and supporting local mechanics and garages. Because each vehicle is customized, the size of the battery pack — the most expensive part of an electric car — can be determined based on the commuting needs of the vehicle owner/driver, he noted.      
One member of the CREATE Lab staff has agreed to pay for the first consumer conversion in the program. ChargeCar will be compiling a list of people who are interested in converting their vehicles or buying a converted vehicle and willing to make a $50 refundable deposit.      
The open house will provide an opportunity for people to get a good look inside the vehicles, take a ride, and talk to the ChargeCar team and local mechanics who are participating in the project. In addition to Nourbakhsh, the co-directors of ChargeCar are
Ben Brown
and
Gregg Podnar
, technical staff members of the Robotics Institute.      
ChargeCar also continues to study power management as a way of making electric vehicles more efficient. Unlike the battery-only approach currently being used in the car conversion, this smart power management scheme would combine batteries with an electric storage device called a supercapacitor. By using various artificial intelligence methods to control when electric charge is either drawn from the batteries or stored in the supercapacitor, it should be possible to extend battery life and increase the range and performance of electric vehicles. The project sponsors a
monthly contest
that challenges participants to develop ever-more-efficient computer algorithms for managing power.      
For more details on ChargeCar and the open house, visit the project website at
http://chargecar.org
.       
The ChargeCar project is sponsored by Carnegie Mellon alumna
Donna Auguste
and her husband David Hayes,
Google Inc.
, the
Heinz Endowments
and
Bombardier Inc.
Follow the School of Computer Science on Twitter
@SCSatCMU
.
###
Pictured above is an all-electric 2002 Honda Civic.