March 17, 2011
Press Release: CMU-mentored Girls of Steel Robotics Team Wins Rookie Award in FIRST Competition
Team of Pittsburgh Girls Headed to FIRST Championship in St. Louis
Contact:  Byron Spice / 412-268-9068 / bspice@cs.cmu.edu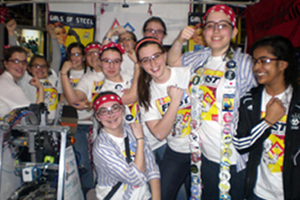 PITTSBURGH—The
Girls of Steel
, a first-year, all-girl robotics team from the Pittsburgh area won the Rookie All-Star Award at the 2011
Pittsburgh Regional FIRST
(For Inspiration and Recognition of Science and Technology) Robotics Competition March 12-13, thus earning an invitation to the
FIRST Championship
in St. Louis, April 27-30.
The 24-member team includes girls from 11 Pittsburgh area high schools, one from a home school and three from schools outside the Pittsburgh area. Carnegie Mellon University's Field Robotics Center has hosted and mentored the team. At the Pittsburgh regional, the team competed against 39 other teams from the U.S. and Canada.
      
Once the details of the 2011 FRC Challenge, "Logo Motion," were announced in January, each of the more than 2,000 FRC teams around the world had just six weeks to design and build the robot they would use to compete. In Logo Motion, robots had to place tubes on pegs to form FIRST logos and then deploy mini-bots to travel up a 10-foot pole to hit sensors at the top. As part of FIRST's efforts to foster "coopertition" among the teams, all matches are played by three-team alliances competing against another three-team alliance. 
     
The girls' robot was able to operate successfully in all parts of the challenge, an impressive result for this rookie team's first robot. The Girls of Steel performed so well in the seeding rounds that they were chosen for an alliance by Creativity In Action - Team #291, one of the highly seeded teams, which helped them continue to the elimination rounds.
     
The Girls of Steel team has opted to compete at a second FRC Regional in Washington, D.C., March 24 -26, before heading to St. Louis for the FIRST Championship. 
     
Girls of Steel provides young women with technological and team experiences not always found in the classroom, especially for girls.  From electronics to power tools, designing to programming, fundraising to marketing - participating on a FIRST robotics team offers real-world skills that make a huge difference in the future of its participants.
     
For more information about the Girls of Steel, contact Patti Rote, CMU robotics industry program director, at prote@andrew.cmu.edu or 412-576-9742. Several videos also are available on YouTube:

      • Girls of Steel team video: http://www.youtube.com/watch?v=isptQ8eV78g&feature=player_embedded
      • A seeding match at the Pittsburgh regional: http://www.youtube.com/watch?v=NFQcd6ETvF0
      • The team receiving the Rookie All-Star Award: http://www.youtube.com/watch?v=2qeDTsj3OI8
     
Follow the School of Computer Science on Twitter @SCSatCMU.

###

Pictured above, the Girls of Steel celebrate their performance.