March 15, 2011
Press Release: Carnegie Mellon University's Jeannette Wing To Receive Computer Research Association Distinguished Service Award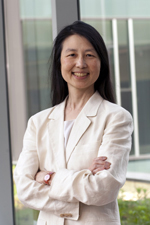 PITTSBURGH—Carnegie Mellon University's Jeannette Wing, whose ideas have helped shape conceptions of what computer science is and can be, will receive the 2011 Distinguished Service Award of the Computer Research Association (CRA), a leading advocate for computer science research and education.

Wing is the President's Professor of Computer Science and Head of the Computer Science Department (CSD) within Carnegie Mellon's School of Computer Science (SCS).

The CRA, an association of more than 200 academic computer science departments, industry and government laboratories and affiliated professional societies, selected Wing in recognition of her national and international thought leadership with respect to computational thinking. The CRA's board of directors also cited her extraordinary performance as assistant director of the National Science Foundation's Computer and Information Science and Engineering directorate from 2007-2010.

"Having the CRA Board select Jeannette from among our award committee's nominees was extremely satisfying," said David Notkin, a professor of computer science and engineering at the University of Washington and head of the CRA award committee. "Jeannette has made fundamental contributions in all three dimensions that we value — research, education and service."

In separate action, Wing was recently elected one of five new members of the CRA's board of directors and will begin a three-year term on July 1.

"Jeannette has been an important leader in computer science, both at CMU and at a national level," said Randal E. Bryant, SCS dean. "She will be an important contributor to the CRA board."

Wing's articulation of the notion of computational thinking has been influential in identifying how computing research is different from computing per se. Computational thinking draws on fundamental concepts of computer science, such as abstraction, to solve problems, design systems and understand human behavior. These ideas, she contends, should be incorporated broadly into educational programs. She launched the Center for Computational Thinking at Carnegie Mellon in 2007 and, at the NSF, established funding programs to advance computational thinking.

Wing's leadership at the NSF came at a crucial time both scientifically and politically, according to the CRA. She was deeply involved in a set of major NSF programs including Cyber-Enabled Discovery and Innovation, Expeditions in Computing, Trustworthy Computing, Data-Intensive Computing, Cyber-Physical Systems, Smart Health and Wellbeing, and more. These have helped push research in numerous new directions, and they have been essential in further establishing computing research as a cornerstone of NSF's full research portfolio and as a critical dimension of America's innovation economy. 

"Jeannette's service work has touched, in a tangible and positive way, virtually every working academic computer science researcher," said Peter Lee, a former CSD head who is now managing director of Microsoft Research Redmond.

The CRA's Distinguished Service Award is presented to a person whose leadership and service in government affairs, professional societies, publications or conferences has had a major impact con computing research. Past winners include former Carnegie Mellon faculty members Anita Jones and William Wulf. The date and location of the presentation of the award to Wing has not been determined. For more information, please see the CRA awards web site, http://www.cra.org/awards/service-current/.

Wing, a faculty member since 1985, had been head of the CSD for three years prior to joining the NSF in 2007 and resumed the CSD post in July 2010. Prior to her original stint as CSD head, she served five years as SCS associate dean for academic affairs, overseeing and standardizing the school's doctoral and master's degree programs. She also served nine years as associate department head for the doctoral program in computer science.

As a researcher, Wing is an international leader in the area of formal methods — the use of mathematical models and logics to specify and reason about computing systems — and in trustworthy computing, with a focus on software security and privacy.

Wing is an alumna of the Massachusetts Institute of Technology, where she earned bachelor's and master's degrees in electrical engineering and computer science in 1979, and a doctorate in computer science in 1983. She began her career as an assistant professor at the University of Southern California and joined the Carnegie Mellon faculty in 1985. She has worked or consulted for AT&T Bell Laboratories, Xerox Palo Alto Research Laboratories, Digital Equipment Corp., USC/Information Sciences Institute, the Jet Propulsion Laboratory and Microsoft Corp.

A fellow of the Association for Computing Machinery, the IEEE, and American Association for the Advancement of Science, Wing has served on numerous advisory and editorial boards. Last year, she was elected a member of the American Academy of Arts & Sciences.

Follow the School of Computer Science on Twitter @SCSatCMU.

###

Pictured above is Jeannette Wing, who will receive the 2011 Distinguished Service Award of the Computer Research Association.