March 15, 2011
Press Release: Carnegie Mellon's College of Engineering Hosts Sixth Annual Washington Speaker Series
Outstanding Research and Academic Leadership To Be Showcased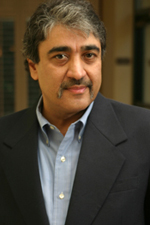 PITTSBURGH—Carnegie Mellon University's Pradeep K. Khosla will moderate a distinguished panel of infrastructure experts and urban planners from 7 to 8 p.m. Thursday, March 31 at the sixth annual Washington Speakers Series at the Cosmos Club at 2121 Massachusetts Ave., N.W. in Washington, D.C.

The panel discussion, titled "The Rebirth of American Cities: Smarter Strategies for Growth and Sustainability," will feature Carlton Eley, senior environmental protection specialist at the U.S. Environmental Protection Agency; James H. Garrett, Jr., head of Carnegie Mellon's Department of Civil and Environmental Engineering; Ben Hecht, president and CEO of Living Cities; Rep. Brian Higgins, D-N.Y.; and Michael Littlejohn, vice president of IBM's smarter cities Strategy & Business Development Solutions. Prior to the panel discussion, Donald K. Carter, director of the Remaking Cities Institute at Carnegie Mellon's School of Architecture, will speak about how the growth of cities is creating new challenges and opportunities for economic stability and technological advancement.

"As we enter an age of computerized building systems, the challenge is to develop technology that is both robust and capable of intelligent automated control," said Khosla, dean of Carnegie Mellon's College of Engineering, the Philip and Marsha Dowd University Professor of Electrical and Computer Engineering, and founding director of Carnegie Mellon CyLab. "We have outstanding researchers working on many facets of critical infrastructure that will ultimately lead to better decision making."

Already, Carnegie Mellon's Center for Sensed Critical Infrastructure Research (CenSCIR) is bringing together a multidisciplinary team of experts committed to creating new fast, reliable monitoring systems to collect and process data about a myriad of complex network systems critical to both the nation's security and daily commerce.

Panel members will outline some of the key issues now faced by urban planners, engineers and architects when it comes to making cities and buildings more sustainable.

Carnegie Mellon's Washington Speakers series is a nonpartisan forum to enhance meaningful exchange among business, government and research leaders through an exploration of issues at the intersection of policy, technology and innovation. The series is sponsored by Carnegie Mellon's College of Engineering, which is recognized as a top 10 engineering school by U.S. News & World Report.

For additional information about the series, please see http://www.cit.cmu.edu/wss-cities

###

Pictured above is Pradeep Khosla, dean of Carnegie Mellon's College of Engineering.