March 15, 2011
Media Advisory: CMU's CAUSE Lecture Series To Present "The Lost Vernacular of a Vanishing Tribe"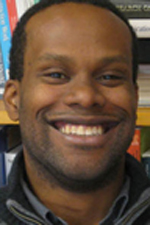 Event: Following the Civil Rights era, many African-American intellectuals feared that their once cohesive communities were fracturing due to urbanization and a globalizing, post-industrial market economy. To explore this topic, Carnegie Mellon University's Center for Africanamerican Urban Studies and the Economy (CAUSE) will host Richard E. Purcell for a talk on "The Lost Vernacular of a Vanishing Tribe."

Purcell, the CAUSE postdoctoral fellow and an assistant professor of English at CMU, specializes in African-American literature, film studies and Cold War studies. He will use novelist and cultural critic Ralph Ellison's writings to re-conceptualize the social culture at the time. Focusing on Ellison's famous essay "The Little Man at Chehaw Station," Purcell will suggest that Ellison purposefully intended to create a literary and urban understanding of what he called the "integrative, vernacular note" of American Experience.

CAUSE is part of the Department of History within Carnegie Mellon's College of Humanities and Social Sciences. It develops programs of graduate and postdoctoral training, scholarly research, data collection, publications and education. For more information, visit http://www.hss.cmu.edu/cause/.

When:  Friday, March 18; 4:30 p.m. refreshments; 5 p.m. lecture and discussion
 
Where: Steinberg Auditorium, Baker Hall A-53, Carnegie Mellon University

###

Pictured above is Richard Purcell.