March 15, 2011
Press Release: Professor Robert M. Dammon Chosen To Lead Carnegie Mellon's Tepper School of Business as Dean
Appointment Highlights Strong Connection to Program's Analytic Focus as Well as Close Ties to Students and Global Alumni Community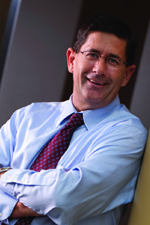 PITTSBURGH—Robert M. (Bob) Dammon, associate dean of education and professor of financial economics at Carnegie Mellon University's Tepper School of Business, has been chosen to lead the school as its ninth dean, effective May 1, 2011.  He will succeed Kenneth Dunn, who stepped down as dean on December 31, 2010, after nine years at the post. Carnegie Mellon University Provost and Executive Vice President Mark S. Kamlet has served as acting dean since Dunn's departure.
   
"We are fortunate to have Bob assume leadership of one of the world's great business schools," Kamlet said. "The analytical approach to solving complex business problems was invented at Carnegie Mellon's business school and serves as an important framework for business.  Our expectation of a leader for the school's academic and research priorities is extremely high, and Bob's experience is unmatched.

"He is an outstanding researcher, exceptional teacher and skillful administrator, and he brings a clear understanding of the complexities and opportunities in management education today.  Likewise, Bob appreciates the ever-constant relevance of analytical decision-making and will broaden its application to the global marketplace. There's no doubt he will continue the school's long-standing reputation for excellence in education and research."

"Bob is an extraordinary educator and an extremely clear thinker. He instinctively understands the centrality of both education and research to our school's mission and the tight connection between these elements," said Chester Spatt, the Pamela R. and Kenneth B. Dunn Professor of Finance and chairman of the school's Dean Search Committee. "I anticipate that the Tepper School of Business will benefit immensely from his talents and his focus on strengthening our school."

While regarded as a world-class academic researcher and leading expert on the implications of taxation on asset allocation and corporate finance, Dammon's direct ties to industry are equally strong through consulting roles and executive education programs. Dammon has developed and taught customized financial management programs for more than two dozen corporations, including Fortune 100 and Fortune 500 firms, in industries ranging from financial services to telecommunications and consumer packaged goods. 

"It is an honor to have the opportunity to serve as the next dean of the Tepper School.  I am inspired by the successes of my predecessors, the school's rich history in revolutionizing management education and its unwavering commitment to academic and research excellence," Dammon said.  "I look forward to working with an impressive community of faculty, alumni, students and staff to continue the school's innovative teaching and research and to expand our collaboration with other world-class programs at Carnegie Mellon."
 
After earning his MBA in 1980 and his Ph.D. in 1984 in financial economics at the University of Wisconsin, Madison, Dammon joined the faculty of the Tepper School of Business, formerly known as the Graduate School of Industrial Administration.  He became associate dean for education at the Tepper School in 2008.

Dammon is the only three-time winner of the Tepper School's George Leland Bach Teaching Award (1989, 1997, 2007).  He has taught numerous graduate-level classes in corporate finance, mergers & acquisitions and corporate restructuring and has developed and taught numerous executive education programs in the arena of corporate finance. He also served as a visiting associate professor of financial economics at the Fuqua School of Business at Duke University (1995-96), where he was recognized jointly as "Outstanding Teacher of the Year" and has been included multiple times in BusinessWeek's "Guide to the Best Business Schools Four-Star Faculty."

A noted and well-respected researcher whose work has been published in the most prestigious finance and economic journals, including the American Economic Review, the Review of Financial Studies and the Journal of Finance, Dammon's most recent research focuses on lifetime savings, investing and asset allocation.  Among the awards he has won for his scholarship is the 2004 "TIAA-CREF Paul A. Samuelson Award for Outstanding Scholarly Writing on Lifelong Financial Security."  

Dammon is a member of the American Finance Association, the American Economic Association and the Society for Financial Studies. He also has served as associate editor for several professional journals including Financial Management (2002-2008), Management Science (1993-1997, 2001-2003) and the Review of Financial Studies (1996-1999). 

###

Pictured above is Robert M. Dammon.