March 13, 2011
Press Release: Carnegie Mellon University in Qatar Names Ilker Baybars Dean
His Dedication to International Work and Insight Into Students, Faculty and Business Needs of the Region Make Him an Ideal Fit, Says University Provost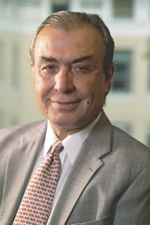 DOHA, QATAR—Ilker Baybars, deputy dean and the George Leland Bach Chair and professor of operations management at the Tepper School of Business at Carnegie Mellon University, has been named dean of Carnegie Mellon University in Qatar, effective August 2011.  The announcement was made today by Mark S. Kamlet, university provost and executive vice president.
Baybars will assume duties from interim dean G. Richard Tucker, who has been serving since August 2010. He will be Carnegie Mellon Qatar's second dean, following Charles E. "Chuck" Thorpe, who served in this role from 2004 to 2010.
"With more than 32 years of service to Carnegie Mellon and our university community, Ilker is one of the longest-serving and most valued academic leaders of the institution," Kamlet said. "His experience and successes in teaching, research and academic initiatives will be a great benefit to our campus in Qatar."
"I regard this as a wonderful opportunity for me to work more closely with stakeholders in the region in assuring the continued success of Carnegie Mellon University in Education City," Baybars said. "This assignment truly aligns my personal interests and professional experience, and I look forward to meeting the challenges ahead."
A native of Turkey, Baybars received his bachelor's degree from Middle East Technical University (METU) in Ankara, Turkey, in 1969. After spending a year at METU as an instructor, Baybars studied at Carnegie Mellon, where he earned master's (1972) and Ph.D. (1979) degrees. He joined the university faculty in 1978.  Baybars' primary teaching and research have been in the fields of quantitative methods, operations research and production management. 
"In addition to his work on Carnegie Mellon's main campus, llker's dedication to international work provides an excellent foundation on which we can continue the university's success abroad," Kamlet said. "He has been actively engaged with the Carnegie Mellon campus in Qatar since its inception in 2004, and his insight into the students, faculty and business needs within the region uniquely underscore the ideal fit associated with this appointment."
"Dean Baybars has already played a pivotal role in making Carnegie Mellon University in Qatar an important addition to our national infrastructure through the renowned quality of its teaching and its engagement with Qatari society, and I am very pleased to welcome him to his new position," said H.E. Dr. Abdulla bin Ali Al Thani, Vice President, Education, Qatar Foundation for Education, Science and Community Development. "His appointment comes at an exciting point in the development of Education City as we step up our research activities, introduce further graduate programs, and benefit from increasing synergies and efficiencies among our partner institutions. I look forward to his contribution in all of these areas."
Baybars has served as a member of Carnegie Mellon Qatar's Joint Advisory Board, which is comprised of representatives from Carnegie Mellon and Qatar Foundation. Additionally, he is a member of the board of trustees of Bilkent University in Ankara, Turkey, as well as vice president and board member of the Alliance on Business Education and Scholarship for Tomorrow in Tokyo.  He has served as a consultant to the United Nations and various public and private organizations in Turkey and Asia.
During his tenure at Carnegie Mellon, Baybars has served as acting president of the Carnegie Bosch Institute for Applied International Studies and as head of the business school's undergraduate business program. He became associate dean in 1985 and deputy dean of the Tepper School in 1992. In 1997, he received the Outstanding Achievement Award for Leadership from the business school. In 1981, he became the first recipient of the Emil Limbach Teaching Award for Excellence in the Classroom from the School of Urban and Public Affairs, now the Heinz College. Baybars also was the architect and founder of the business school's FlexTime (part-time) and FlexMode (distance learning) MBA programs and served as head of MBA programs from 1984 to 1997.
###
Pictured above is Ilker Baybars, the new dean of Carnegie Mellon University in Qatar.