March 10, 2011
News Brief: Thank You, Congressman
Students Present Plaque to Rep. Doyle For Supporting Open Access to Research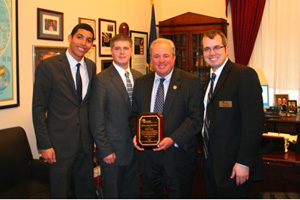 Three students from Carnegie Mellon University presented U.S. Rep. Mike Doyle of Pennsylvania with a plaque to thank him for supporting legislation that would guarantee open access to publicly funded research.
CMU students Omar De Leon, Timothy Seidel and Jon Kowalski met with Doyle on Feb. 28 to present the plaque to him in Washington, D.C. The students were there as members of the National Association of Graduate-Professional Students (NAGPS). In all, 25 members of NAGPS from 10 different schools met with a number of congressmen and senators in Washington during the Spring 2011 Legislative Action Days from Feb. 27 to March 1.
While in Washington, the students lobbied in support of legislation to allow the results of publicly funded research to become publicly available. They also voiced support for legislation that would extend the current National Institute of Health policy regarding access to federally funded research results to all government agencies with significant extramural research spending, saying that such an extension would be a low-cost, high-impact means to improve American competitiveness.
Doyle introduced the Federal Research Public Access Act in April 2010. De Leon noted that Congressman Doyle's legislation is very important, as it will help improve U.S. competitiveness and innovation.
"Our stance is that it makes sense for something paid for with taxpayer's money to be available to the public," De Leon said. "Currently, for small business and people trying to innovate with new technology, it costs thousands of dollars per year to have access to this kind of information. There is a strong correlation with competitiveness and entrepreneurship."
All three Carnegie Mellon students are pursuing master's degrees: De Leon in
Civil and Environmental Engineering
; Seidel in
Public Policy and Management
; and Kowalski in
Engineering and Public Policy
.