June 03, 2011
Press Release: Carnegie Mellon School of Music Appoints David Harding Associate Professor of Viola
He's One of the World's Finest Chamber Music Performers, Says CMU's Noel Zahler
Contacts:
Kathryn Heidemann, School of Music / 412-268-4921 /
heidemann@cmu.edu
Teresa Thomas, Media Relations / 412-268-2900 /
thomas@cmu.edu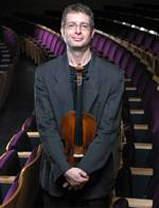 PITTSBURGH—After a comprehensive international search and unanimous decision by the search committee, the Carnegie Mellon University
School of Music
has appointed David Harding as its new associate professor of viola.      
"David Harding is one of the music world's finest chamber music performers," said Noel Zahler, head of the School of Music. "We at the Carnegie Mellon School of Music look forward to working with him to further distinguish viola and chamber music studies at our school."      
Harding comes to Carnegie Mellon from the University of British Columbia, where he is a professor of viola and chamber music. He'll join CMU in January 2012 and begin his official appointment as associate professor of viola studies and chamber music in fall 2012. Maureen Gallagher will continue her role in the viola studio until Harding arrives in January.      
Harding has an extensive solo and chamber music career, having performed throughout Europe, the United States, Canada and Central America in such venues as the Berlin Philharmonie, Concertgebouw and Weill Hall at Carnegie Hall. His performances have been broadcast on BBC, NPR and Deutschland Radio, and he is frequently featured on CBC Radio in Canada. Harding also regularly performs at chamber music festivals throughout North America.     
Harding is a member of Trio Verlaine and the American String Project, a collaboration between quartet players, soloists and concertmasters. A seasoned chamber musician, he is a former member of the Chester String Quartet, Toronto String Quartet and Triskelion String Trio. He has collaborated with members of the Cleveland, Tokyo and St. Lawrence quartets, and has made chamber music recordings for Sony, Crystal, Chesky, Innova and New Albion record labels.  His latest CD projects include a recording of Bach's Goldberg Variations with Triskelion for CBC records; Brahms' Viola Sonatas and Horn Trio for Skylark Music; and an innovative disc of flute, viola and harp works by Ravel and Debussy with Trio Verlaine for Skylark Music.      
Harding has received numerous awards, most notably the Sir John Barbirolli Award at the Lionel Tertis International Viola Competition. He has given master classes at the Banff International Centre for the Arts and numerous universities throughout North America.      
A graduate of the Juilliard School of Music, Harding plays a viola made by Pietro Antonio dalla Costa, Treviso Italy, circa 1750.
###
Pictured above is David Harding.