June 30, 2011
Press Release: CMU's Erica Fuchs Earns NSF Career Young Investigator Award For Research About Rethinking National Innovation Systems
Researcher Receives Accolades for Cutting-Edge Work About Roots of Technological Innovation
Contact:
Chriss Swaney / 412-268-5776 /
swaney@andrew.cmu.edu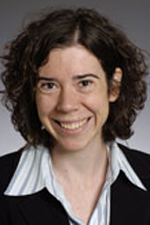 PITTSBURGH—Carnegie Mellon University's
Erica Fuchs
was awarded a five-year, $624,517 Career Young Investigator Award from the National Science Foundation (NSF) to research the global impact of economic downturns on the direction of innovation.      
"I'm excited about this award because it will enable me to research how shocks like the burst of the dot.com bubble may have path-dependent consequences for the global locus of manufacturing and innovation activity. I am particularly interested in options for nations to gain comparative advantage during such periods," said Fuchs, an assistant professor in the
Department of Engineering and Public Policy
(EPP) at Carnegie Mellon.       
"My research shows that moving manufacturing overseas to developing countries can reduce the economic viability of emerging technologies. We find that when U.S. firms shift production from the U.S. to countries like China, the most advanced technologies that were developed in the U.S. no longer pay," said Fuchs, a former fellow at the United Nations in Beijing, China.       
Among other issues, Fuchs explains how the above-described phenomena leave the most advanced technologies abandoned, and in one case created a barrier to pursuing innovation back in the United States. Particularly important may be policies to support manufacturing, technology development and commercialization activities by early-stage, process-based, small- and medium-sized startups.      
"Fuchs is taking the lead in an area of policy research that has shed important attention on the impact of manufacturing location on technology competitiveness," said University Professor M. Granger Morgan, the Thomas Lord Chair in Engineering and head of Carnegie Mellon's Department of Engineering and Public Policy. "We applaud her creativity and energy as she moves forward with work that could revolutionize the way we look at innovation and U.S. competitiveness."       
Fuchs's research award comes on the heels of a recent
Carnegie Mellon visit by U.S. President Barack Obama
to launch the Advanced Manufacturing Partnership — a $500 million national effort that brings together private sector industry, universities and government to, in the President's words, "spark a renaissance in American manufacturing," and help U.S. manufacturers develop cutting-edge tools they need to compete with anyone in the world.      
Fuchs earned a bachelor's degree in materials science and engineering in 1999, a master's degree in technology policy in 2003, and a Ph.D. in engineering systems in 2006, all from the Massachusetts Institute of Technology. She hopes that her work will contribute to reframing how firms and nations approach global technology decision-making and that it will encourage rethinking the role of government in technology development.      
###
Pictured above is Erica Fuchs.