June 28, 2011
Press Release: Carnegie Mellon's M. Granger Morgan Receives Prestigious Award For Academic Innovation From American Society for Engineering Education
University Professor Lauded for Decades of Leading-Edge Work In Climate Change and Risk Analysis
Contact:
Chriss Swaney / 412-268-5776 /
swaney@andrew.cmu.edu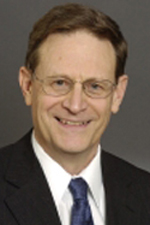 PITTSBURGH—Carnegie Mellon University's M. Granger Morgan will receive the Chester F. Carlson Award at a special awards ceremony June 29 at the American Society for Engineering Education (ASEE) Annual Conference and Exposition at the Vancouver Convention Center in Vancouver. 
     
"This is a wonderful surprise, and I'm thrilled to be receiving such a distinguished award for work that encompasses the challenges and intellectual satisfaction of seeing so many of my students excel in both work and life," said Morgan, a University Professor who holds the Thomas Lord Chair in Engineering and is head of Carnegie Mellon's Department of Engineering and Public Policy. University Professor is the highest distinction a faculty member can achieve at CMU.
     
The Chester F. Carlson Award, sponsored by the Xerox Corporation, recognizes an individual innovator in engineering education, who, by motivation and ability to extend beyond the accepted tradition, has made significant contributions to the profession. This particular award recognizes Morgan for his outstanding leadership and attentive nurturing of Carnegie Mellon's Department of Engineering and Public Policy (EPP), the first of its kind in the nation.
     
"Carnegie Mellon's Department of Engineering and Public Policy is both unique and innovative in its approach to tackling critical issues that span everything from climate change to security," said Pradeep K. Khosla, the Dowd University Professor and dean of Carnegie Mellon's top-ranked College of Engineering. "Morgan is deserving of the award for his novel approach to engineering education that has taught so many people around the world about how to deal with uncertainty."
     
Indira Nair, vice provost emeriti of Carnegie Mellon and award nominator, praised Morgan for developing a new kind of education for engineers, competence in their engineering discipline with an added social dimension of working with "messy" real-world problems.
     
At Carnegie Mellon, Morgan directs the National Science Foundation's Climate Decision Making Center and is co-director of the university's Electricity Industry Center. He also serves as the chair of the Scientific and Technical Council for the International Risk Governance Council.
     
Morgan also has served as the chair of the Science Advisory Board of the U.S. Environmental Protection Agency and as chair of the Advisory Council of the Electric Power Research Institute. He is a member of the National Academy of Sciences and a fellow of the American Association for the Advancement of Science, the Institute of Electrical and Electronics Engineers and the Society for Risk Analysis.
     
He received a bachelor's degree from Harvard College in 1963, a master's degree in astronomy and space science from Cornell University in 1965, and a Ph.D. from the Department of Applied Physics and Information Sciences at the University of California at San Diego in 1969.  
           
###
Pictured above is M. Granger Morgan.