June 24, 2011
News Brief: Obama Launches Manufacturing Partnership From CMU
By Teresa Thomas thomas(through)cmu.edu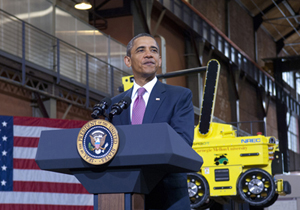 Carnegie Mellon University was honored to welcome President Barack Obama to campus today (June 24), as he launched the Advanced Manufacturing Partnership (AMP), a national effort bringing together industry, universities, and government to invest in emerging technologies, create sustainable new businesses, and enhance U.S. competitiveness. AMP is made up of what the President called some of the "most advanced engineering universities, like Carnegie Mellon, Georgia Tech, Stanford, Berkeley, Michigan and innovative manufacturers, from Johnson & Johnson to Honeywell, Stryker to Allegheny Technologies."  
     
Carnegie Mellon was privileged to serve as the venue for this milestone announcement, which highlights investment in industries such as information technology, biotechnology and nanotechnology.
     
President Obama's announcement came on the heels of Carnegie Mellon's new "Greenlighting Startups" initiative, which was created to further accelerate the university's already impressive record of turning innovations into new businesses. Greenlighting Startups, a portfolio of five new and existing campus incubators, helps streamline the process for transforming research from award-winning professors and world-class students into thriving companies that provide new jobs and solve real-world problems.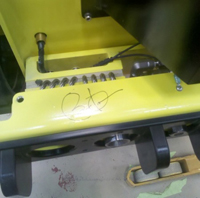 The President toured a number of demonstrations focusing on advanced technologies and robotics. In his opening remarks, President Obama said, "It seems like every time I'm here I learn something.  So, for those of you who are thinking about Carnegie Mellon, it's a terrific place, and you guys are doing just great work. I just met with folks from some cutting-edge companies and saw some of their inventions here in your National Robotics Engineering Center. But that's not the only reason I'm here. You might not know this, but one of my responsibilities as Commander-in-Chief is to keep an eye on robots."
       
He went on to say: "And that's why we're here. Carnegie Mellon is a great example of what it means to move forward. At its founding, no one would have imagined that a trade school for the sons and daughters of steelworkers would one day become the region's largest — one of the region's largest employers and a global research university.  And yet, innovations led by your professors and your students have created more than 300 companies and 9,000 jobs over the past 15 years — companies like Carnegie Robotics. But more important than the ideas that you've incubated are what those ideas have become: They've become products made right here in America and, in many cases, sold all over the world. And that's in our blood.  That's who we are. We are inventors, and we are makers, and we are doers."
       
A complete transcript of the speech can be found at: http://www.whitehouse.gov/the-press-office/2011/06/24/remarks-president-carnegie-mellon-universitys-national-robotics-engineer
Watch a video of his address at http://www.youtube.com/user/carnegiemellonu#p/u/0/sfTY38Xg9bg
See more photos at http://www.flickr.com/photos/carnegiemellonu/sets/72157627038375642/
Above, President Barack Obama announces the Advanced Manufacturing Partnership from CMU's National Robotics Engineering Center.  Below (AP Photo), he signs Sensabot, one of the CMU robots on display. The robot was developed to perform inspection tasks in hazardous environments and isolated facilities.