July 28, 2011
News Brief: ETC To Partner With Salford University in United Kingdom
By Byron Spice bspice(through)andrew.cmu.edu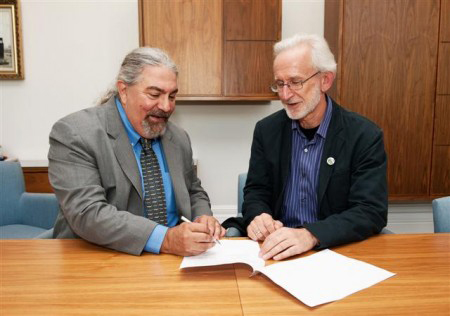 The Entertainment Technology Center (ETC) has signed a three-year Memorandum of Understanding with the University of Salford in Manchester, United Kingdom, to collaborate on interactive, creative digital media projects. The partnership will include student exchanges, the development of postgraduate courses and research projects in acoustics, media asset management and "edutainment."
The partnership comes as Salford is preparing to open a new media facility, called MediaCityUK, where 1,500 students will work and study alongside major media organizations including the BBC.
 
"Interactive digital media is the language of young people all over the world. So, expanding the ETC's connection to include the UK is a natural. The University of Salford is the one British university that has expressed the greatest interest in connecting with us," said ETC Executive Producer Don Marinelli.
 
Marinelli said the University of Salford is a world leader in the area of acoustics and audio research and development, and that the ETC has much to learn from Salford in those areas.
 
"Our move to MediaCityUK is about creating links - not just in the North, West and the UK - but internationally, and Carnegie Mellon fits with our objectives perfectly," said  University of Salford Vice Chancellor and Professor Martin Hall. "Carnegie Mellon is a global leader in digital and creative teaching and research, and both institutions stand to benefit significantly from this partnership."
The University of Salford issued a press release on the partnership, which is available at http://www.salford.ac.uk/news/details/1416
Pictured above, Don Marinelli signs a memorandum of understanding with University of Salford's Vice-Chancellor Professor Martin Hall.