July 27, 2011
Press Release: Hilary Masters' Latest Novel Combines Murders, Mystery and Humor into Futuristic Fable
"Post: A Fable" is the Award-Winning CMU English Professor's 10th Novel
Contact: Shilo Raube / 412-268-6094 / sraube@andrew.cmu.edu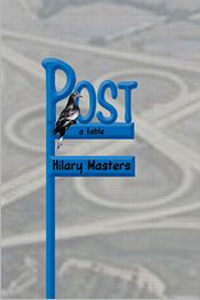 PITTSBURGH—Before their extinction in 1914, when the passenger pigeons migrated, the sky would darken for an entire day. Even as late as 1866, an estimated 3.5 billion birds flocked south, only to be hunted and trapped out of existence a few decades later.
Using the passenger pigeon's plight as a central metaphor, Carnegie Mellon University English Professor Hilary Masters' latest novel, "Post: A Fable," is part-mystery, part-environmental elegy and futuristic tale about ruining things that we love.
The case in point: in an effort to thwart terrorism, Manhattan has been turned into the perpetual parking plaza by New York's late governor, Kimball Lyon.  By chance, a separate murder investigation leads special investigator B. Smith, a staunch opponent to New York City's ruinous urban redevelopment, to a crumbling Civil War-era castle, where Leo Post, son-in-law of the late governor, is living.
Post, a writer and critic, has a strange connection to the ill-fated passenger pigeons and shares his stories.
"It's a wacky book," said Masters, an acclaimed writer who is known for using different kinds of abandonment to represent men and women in contemporary America. "There's no real plot - the characters are eating and telling stories. They don't have any money, so they're eating peanut butter and jelly sandwiches as murders and mysteries surround them."
In a starred-review for "Booklist," associate editor Donna Seaman wrote, "In a whirl of historic fact, erotic mayhem, and comic suspense, Masters ingeniously connects the bloodlust that drove the once sky-filling passenger pigeon into extinction with endangered forms of culture and love in an uproarious and wise inquiry into why we destroy what awes and sustains us."
"Post" is Masters' 10th novel. "It's been a long-time coming, so to finally have it come out is gratifying," he said.
Masters also writes essays and works of fiction, including a story in the recently published crime book "Pittsburgh Noir" and the memoir "Last Stands: Notes from Memory." His work has received the Balch Prize for Fiction, the Monroe Spears Prize for the Essay and has been published in Best American Essays, Best American Short Stories and the Pushcart Prize Anthologies. In 2003, the American Academy of Arts and Sciences presented Masters with its Award for Literature.
To celebrate the launch of "Post: A Fable," Masters will read a section of the book that highlights the passenger pigeon hunt at 2 p.m., Sunday, July 31 at the Monterey Pub at 1227 Monterey St. in Pittsburgh's North Side.
For more information on Masters, visit http://www.cmu.edu/hss/english/people/faculty/bios/hilary-masters.html.

###