July 20, 2011
Obituary: CMU's Horacio Arló-Costa Was an Acclaimed Logician and Philosopher
Contact:
Shilo Raube / 412-268-6094 /
sraube@andrew.cmu.edu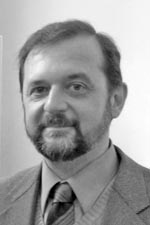 PITTSBURGH—
Horacio Arló-Costa
, professor of philosophy at Carnegie Mellon University, died July 14 at age 54. A renowned logician and philosopher, Arló-Costa's innovative research crossed many different fields, including formal epistemology, artificial intelligence, behavioral decision research and cognitive neuroscience. 
Visitation will be held on Saturday, July 23 from 2:30 to 5 p.m. and from 7 to 9 p.m. at the Thomas Quinn Funeral Home, 35-20 Broadway, Long Island City N.Y. 11106. 
In lieu of flowers, contributions can be made to the Horacio Arló-Costa Memorial Scholarship Fund. To be notified when further information about donating to the Horacio Arló-Costa Memorial Scholarship Fund is available, please send an email to Mauren Antkowski at
mauren@cmu.edu
.
"Horacio was incredibly passionate and knowledgeable about his subject," said
Richard Scheines
, head of the
Department of Philosophy
. "He read everything and remembered all of it. He was one of those people who so loved the work that he could just never get enough of it. He was also an extremely kind and caring individual. He did not have a mean bone in his body. We will miss him terribly."
Arló-Costa's work focused on different branches of philosophical logic, formal epistemology, decision theory and behavioral decision theory. His main line of research centered on probabilistic models for conditionals and non-monotonic notions of consequence, epistemic logic, first order modal logic and belief revision.  
More recently, Arló-Costa's focus shifted boldly from the realm of ideal rationality to the more realistic world of bounded rationality and fast and frugal heuristics for decision making, which resulted in a number of theoretical articles and behavioral studies and an interdisciplinary workshop on the topic organized by Arló-Costa.
"Horacio's research was notable for emphasizing epistemological rather than ontological interpretations of conditional and modal propositions in logic," said
Teddy Seidenfeld
, the Herbert A. Simon Professor of Philosophy and Statistics. "Along with a few others, he challenged longstanding, received philosophical attitudes about the importance of metaphysics in these areas of philosophical analysis. In that sense, Horacio contributed to the best interdisciplinary traditions of American Pragmatism, with outreach to computer science, psychology and behavioral economics."
Arló-Costa received his Ph.D. in philosophy from Columbia University in 1997 and joined CMU's Philosophy Department as a post-doctoral fellow the same year. Over the past 15 years, he rose to the rank of professor and recently helped to found CMU's
Center for Formal Epistemology
(CFE) with
Kevin T. Kelly
.
"Horacio was an indispensable partner in the crucial first year of the center's existence," said Kelly, professor of philosophy and director of the CFE. "Due to his encyclopedic familiarity with formal epistemology, Horacio was ideally positioned to initiate an endless stream of interesting and relevant center activities. In the first year of operation, we managed to plan and execute six major workshops and conferences and to invite two visiting fellows. In spite of Horacio's many responsibilities and concerns, center activities always received his top attention and put a twinkle in his eye. It has been a wild and unforgettable adventure.  The center will redouble its efforts to vindicate Horacio's faith and devotion."
Arló-Costa published more than 50 articles in top academic journals and often collaborated with colleagues and students. For research on cognitive neuroscience, he worked with the late CMU Professor
Robyn Dawes
, who helped found the behavioral decision research field, and
Coty Gonzalez
, associate research professor of
social and decision sciences
.
Additionally, Arló-Costa served as editor for the "
Review of Symbolic Logic
," as area editor in epistemology for "
Synthese
" and as member of the editorial board for the "
Journal of Philosophical Logic
."
"An editorial processed by Horacio was an editorial job processed according to the highest possible standards in science and philosophy," said
Vincent F. Hendricks
, editor-in-chief of Synthese. 
Arló-Costa's greatest influence may have been on the students he taught, mentored and collaborated with.  He taught required courses in the Philosophy Department's undergraduate and graduate degree programs and served as director and/or committee member of numerous master's and doctoral theses.
Arthur Paul Pedersen
called Arló-Costa an "inestimable adviser" who "imparted and cultivated invaluable skills and knowledge."
"He was known as a walking encyclopedia, an exceptional academic to consult to acquire a survey of a field of study and its latest, interesting open questions," said Pedersen, a doctoral candidate in the Philosophy Department. "As a true visionary, Horacio dreamt of a naturalized epistemology, one that takes a normative stance yet can accommodate actual behavior, incorporating sound bounded and adapted methods, a rich, explanatory philosophical theory liberal at its heart. Horacio had a large, venerable goal before him, a goal he would undoubtedly have achieved if he were here to pursue it."
Over his career, Arló-Costa received several grants and fellowships including support from the
National Institute of Neurological Disorders and Stroke
, the
National Endowment for the Humanities
and a Falk Humanities Research Grant to fund experimental work in models of decision-making. At the time of his death, he was preparing a book, titled "Three Essays in Formal Epistemology: Normative and Bounded Models of Rationality."
Arló-Costa is survived by his wife, Claudia Arló of Argentina, and his mother, Arminda Costa, of Uruguay.
The Department of Philosophy and the Center for the Formal Epistemology will hold a memorial conference for Arló-Costa sometime in the late fall.
For more information on the acclaimed career of Horacio Arló-Costa, visit
http://www.hss.cmu.edu/philosophy/faculty-arlocosta.php
.
###