July 19, 2011
News Brief: Information Systems Students Support Props, Costumes Project
By Shilo Raube sraube(through)andrew.cmu.edu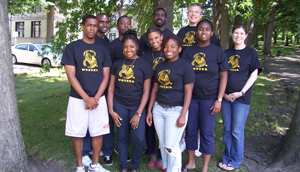 When a performing arts company donated millions of props and costumes to Urban Impact in Pittsburgh, they thought that they would never have to purchase another item for a play or musical again. But, the magnitude of the items quickly became overwhelming — simply locating specific items within the warehouse was virtually impossible.  

Urban Impact, a local ministry based on the North Side aimed at helping at-risk youth, did not have the financial means to solve the problem on their own.

Enter eight students from Historically Black Colleges and Universities (HBCU) who spent six weeks in the Information Systems in the Community Summer Program. Working under the direction of professors Larry Heimann and Jeria Quesenberry, the students created an inventory management system for Urban Impact's Performing Arts Program.  The program is designed to improve the lives of children through singing, dancing and playing musical instruments at venues and colleges across Pennsylvania.

Called the "Urban Impact Costume Collection," the system will allow Urban Impact's staff and production partners to browse and sort items, view photos and ultimately request to use specific items. The system also displays where in the warehouse each item is located.

Tammy Glover, director of Urban Impact's Performing Arts Program, said that working with the students was a wonderful experience that will impact kids lives for years to come.
"Not only did your work leave an imprint on your learning, but you've left a legacy in Pittsburgh," she said.  "Our city is better because you came and visited us."

For the past eight years, the CMU's Information Systems in the Community Summer Program has brought together students from HBCUs to complete an intense and complicated project designed to give them a hands-on learning experience. In addition to mastering new technical concepts, the students were taught project management, leadership and teamwork skills. The six-week program is generously supported by a grant from the Andrew W. Mellon Foundation.

For more information about the Information Systems in the Community Summer Program, the students involved and this year's project, visit http://pawn.hss.cmu.edu/~uifteam/.