July 19, 2011
News Brief: Software Engineering Students Develop Warhol App
By Byron Spice bspice(through)andrew.cmu.edu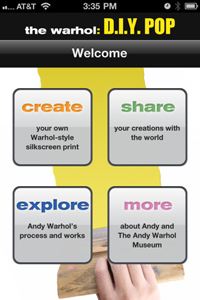 Three students in last year's Institute for Software Research's Professional Software Engineering programs developed an iPhone/iPad application for The Andy Warhol Museum. The application allows users to create a digital silkscreen print by following Warhol's famed silkscreen process step by step.
As the project component of their master's degree, the Warhol Museum sponsored a team of students — Kothanda Ramakumar, Dinesh Ramadoss and Ramkumar Nagarajan — to develop the app. The team was mentored by Matthew Bass, MSE faculty and associate director for corporate and alumni relations for the Professional Software Engineering programs. The Warhol D.I.Y. Pop app, now sold through the iTunes App Store, works on the iPhone, iPad and iPod Touch. The top-selling app on the day of its release, July 11, it was identified as a 'Pick of the Week' by Gizmodo and featured in the Wall Street Journal's "All Things D," the Pittsburgh Post-Gazette and numerous other online and print publications.
With photos taken by their device's built-in camera or obtained from photo galleries, individuals use the application to create personal works of art. The hands-on process includes cropping, exposing, and painting.  Users employ their fingers as virtual squeegees, pulling them across the screen to apply the ink that completes the digital silkscreen.
"Working with The Andy Warhol Museum was a great experience for all concerned," Bass said. "The project provided a great learning opportunity for the students, and the end-result for the Warhol was a world class app. We look forward to future collaborations."