January 31, 2011
Media Advisory: As Super Bowl Approaches, Steelers Mania Blitzes Across Carnegie Mellon Campus
Artists, Engineers, Musicians, Scientists All in for Big Game; CMU TV Studio Available for Interviews
Contact: Ken Walters / 412-268-1151 / walters1@andrew.cmu.edu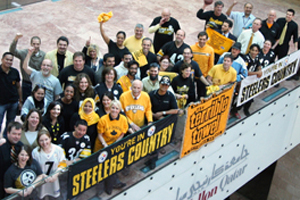 What:
Football may be the most popular field of study this week at Carnegie Mellon University, which is usually known more for technology and the arts than the hurry-up offense and blind side blitzes. With Super Bowl XLV set for Sunday, Feb. 6, Carnegie Mellon experts have some interesting perspectives on the big game. Consider the following:
"Whatever It Takes" Highlights Steelers Culture
Since training camp, CMU's Miller Gallery has been presenting "Whatever It Takes: Steelers Fan Collections, Rituals, and Obsessions," a first of its kind exhibit that looks at the ingenious methods Steelers fans use to construct their own personal and social identities in relation to the team. Jon Rubin and Astria Suparak, the curators of the exhibit, note that "Whatever It Takes" shows how Steelers fans brilliantly remix and meld the team's identity with their own through game-day rituals, Steelers dens, fan sites, costumes, tattoos, videos, Web shows, unlicensed merchandise and more. Fans can watch the Super Bowl at the Miller Gallery this Sunday. To view the exhibit, click here:
http://millergallery.cfa.cmu.edu//exhibitions/whateverittakes/
The Nature of Sports Superstitions
If the Steelers don't win their seventh Lombardi trophy, whom will the fans blame? Green Bay may be favored to win, but how will their fans rationalize a loss if they don't?  Social scientist Carey Morewedge, an assistant professor at Carnegie Mellon and an expert in judgment and decision-making, has published research that shows when something goes wrong, fans tend to blame external influences — other people or supernatural forces — but not when things go their way. For example, when a favored team loses, fans seem prone to believe that the referees were conspiring against their team or that the league is fixed. However, fans attribute their teams' victories to the talents and skills of the players.

Fans and Their Rituals
Do you have a lucky Steelers shirt that you have to wear to ensure the team is victorious? Or, maybe you have to watch the big game with a certain person and eat a specific food. Cognitive psychologist Michael J. Tarr can explain why fans believe rituals actually help their favorite team on the field. Tarr, a professor of cognitive neuroscience and co-director of the Center for the Neural Basis of Cognition, can also describe differences between fan and coach/player rituals.

Saving Your Voice for the Game
We're always hearing about the importance of crowd noise and its effects during the game. Douglas Ahlstedt, associate professor of voice and chairperson of Carnegie Mellon's Vocal Department, has tips for fans who want to have their voices in tip-top shape for the game. Want to scream into overtime? He can explain how.

New "Steelers Opera" Cheers Team on for Seventh Lombardi Trophy 
And speaking of being in good voice, Ahlstedt, along with voice students from CMU, recently created his third "Steelers Opera." Together, they sang new words to the "Toreador" chorus of Bizet's "Carmen," which includes references to the team's players and coaches.
 
No Need for Review
Imagine the NFL playoffs with referees who don't make mistakes (and don't need to spend minutes under the hood reviewing replays). While human experience may never be replaced by computing, Carnegie Mellon engineering professor and football fanatic Priya Narasimhan and her research group are working on technology that will change officiating significantly. Through embedded GPS and accelerometer systems in footballs and gloves, Narasimhan, an associate professor of electrical and computer engineering, hopes to improve the accuracy of officiating in the future.
CMU Alumnus Creates Music Video Highlighting Steelers, Pittsburgh
Just in time for the Steelers Super Bowl appearance, CMU alumnus and employee Tim Ruff wrote and performs the clever lyrics of "Walking in Pittsburgh," based on Marc Cohn's hit song "Walking in Memphis." Featuring references to the Steelers and all things Pittsburgh, Ruff's music video can be seen at
http://www.youtube.com/watch?v=ELiRqFNdsW0.
CMU TV Studio:
We can connect these experts to your outlet through Carnegie Mellon's new state-of-the-art TV studio. Working with Pittsburgh International Telecommunications (PIT), we offer domestic and international connectivity via satellite and fiber. PIT owns and operates one of the largest satellite facilities in the world. Please contact us for more information and to make arrangements.
Contact:
Ken Walters, walters1@andrew.cmu.edu, 412-268-1151
###
Pictured above at top is Denny DeLuca's Steelers Room from the "Whatever It Takes" exhibit at CMU's Miller Gallery. Below, Carnegie Mellon in Qatar celebrates the Steelers heading to the Super Bowl.