January 27, 2011
Media Advisory: As 100th Reagan Anniversary Approaches, CMU's Kiron K. Skinner Available To Discuss President's Legacy, Timing of Alzheimer's Diagnosis
Contact: Shilo Raube / 412-268-6094 / sraube@andrew.cmu.edu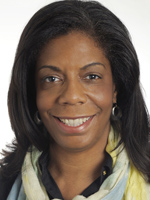 The Story:
A century after the birth of Ronald Reagan, the 40th president of the United States, Carnegie Mellon University's
Kiron K. Skinner
reflects upon his personal letters, a treasure-trove of information.
Skinner is the co-author of The New York Times bestseller "REAGAN: A Life in Letters," which provides an unprecedented look at more than 70 years of Reagan's life through his personal correspondences to friends and family, statesmen, celebrities, children and ordinary citizens. Reagan was born on Feb. 6, 1911, and died on June 5, 2004.
The letters cover everything from his home and family to his health, from his years in Hollywood to his core beliefs and thoughts on economic and domestic policy, from the media to terrorism and the Iran-Contra scandal.
Skinner, an associate professor of social and decision sciences and director of CMU's Center for
International Relations and Politics
, is a renowned expert on Reagan, political strategy, international relations and U.S. foreign policy. She is available to discuss:
Reagan's legacy, both domestically, with his quest to decrease the size and role of government, and internationally, with his vision and ability to take the world to a post-Soviet environment.
The timing of his Alzheimer's diagnosis. From letters that he wrote, Skinner understands Reagan to have been intellectually involved and deeply engaged in policy throughout his presidency.
Reagan's unmatched and underappreciated ability as a political strategist capable of bringing both Republicans and Democrats together on certain issues — even when those same supporters disagreed with him on other points.
Availability:
Professor Skinner is available for phone, Skype or on-camera interviews to share more on these topics. To schedule an interview with Professor Skinner, please contact Shilo Raube at 412-269-6094 or
sraube@andrew.cmu.edu.

###
Pictured above is CMU's Kiron K. Skinner.