January 27, 2011
Press Release: CMU's Ragunathan Rajkumar Earns Westinghouse Chair For "Driving" Innovative University Research
His Work Aims To Make Driving Safer, More Economical for Consumer
Contact: Chriss Swaney / 412-268-5776 / swaney@andrew.cmu.edu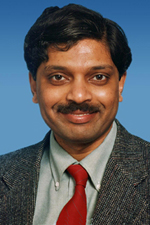 PITTSBURGH—Carnegie Mellon University's
Ragunathan (Raj) Rajkumar
has received the George Westinghouse Professorship in Electrical Engineering for driving CMU research in the automotive industry.        
"This is a wonderful honor from the university and for the ongoing research we are doing in the areas of autonomous driving vehicles and other innovative technologies for enhancing the safety and reliability of vehicles," said Raj Rajkumar, head of Carnegie Mellon's
GM Collaborative Lab
and a professor in the
Department of Electrical and Computer Engineering
and robotics.       
The Westinghouse Professorship grew out of the Westinghouse Scholars Program established in 1937. Under the leadership of Westinghouse CEO, CMU Trustee and alumnus Aris Candris  (E'74, E'78), the relationship with Westinghouse continues to grow and mature as researchers at Westinghouse and Carnegie Mellon work to create innovative technologies for a sustainable future.         
For more than a decade, Rajkumar has been working to help modernize the auto industry and make driving safe and more economical for the consumer. He is featured in a new book about the new American economy set for release in May, and was recently selected as a Distinguished Engineer by the Association for Computing Machinery. He has authored more than 150 publications with six Best Paper awards in peer-reviewed forums and was the recipient of the prestigious Technical Achievement and Leadership Award by the IEEE Technical Committee on Real-Time Systems.         
"Raj is an outstanding researcher and a stellar example of our longstanding tradition of collaborative, problem-solving research designed to advance engineering practice for the benefit of consumers and industry," said Ed Schlesinger, head of Carnegie Mellon's top-ranked Department of Electrical and Computer Engineering.            
In addition to his academic excellence, Rajkumar's work permeates many competitive commercial sectors. He is the primary founder of Pittsburgh-based TimeSys Corp., a company specializing in embedded Linux products and services. And he also was instrumental in helping launch a national research initiative by the National Science Foundation on cyber-physical systems, including applications in transportation, health care, green buildings, manufacturing, agriculture, aerospace and defense.             
He earned a bachelor's degree in electronics and communications engineering from the University of Madras, India, in 1984 and his master's degree and Ph.D. in computer engineering from Carnegie Mellon in 1986 and 1989, respectively.            
###
Pictured above is CMU's Ragunathan (Raj) Rajkumar.