January 24, 2011
Press Release: CMU's Michael J. Tarr and Nathan Urban Receive Professorships For Their Interdisciplinary Contributions to Neuroscience
They Will Shape the Future of Brain Research, Says CMU Provost Mark Kamlet
Contact: Ken Walters / 412-268-2900 / walters1@andrew.cmu.edu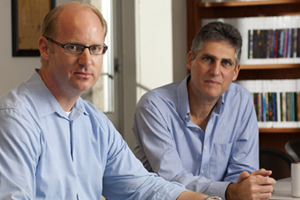 PITTSBURGH—Carnegie Mellon University President Jared L. Cohon today praised U.S. President Barack Obama's plan "to win the future" by out-innovating, out-educating and out-building the rest of the world, stating that America's universities are up to the challenge. 
"While the U.S. faces intense competition in the global economy, our country has one asset that no other nation has yet duplicated: the capacity of university-based research to launch high-growth companies," Cohon said. "As a pioneer in computer science, robotics, cybersecurity and other high-tech fields, Carnegie Mellon is at the forefront of job creation through innovation.

"We support continued investment in biomedical research, information technology and clean energy technology because we know they are proven catalysts for using public investment and converting knowledge, innovation, and expertise into start-ups, entrepreneurship, economic renewal and job growth."
In the last 15 years, Carnegie Mellon has helped to create more than 200 start-up companies and 9,000 jobs in the Pittsburgh region. And an emerging initiative with Pittsburgh leaders is providing a prototype of how the building blocks of national economic renewal can be integrated into a cohesive regional strategy.

###
Pictured above is Carnegie Mellon University President Jared L. Cohon.