February 03, 2011
Press Release: Ernest Green of the "Little Rock Nine" To Share Historic Memories In Black History Month Keynote at Carnegie Mellon, Feb. 10
Contact: Abby Houck / 412-268-4290 / ahouck@andrew.cmu.edu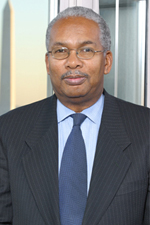 PITTSBURGH—Ernest Green, a living legacy of the civil rights era's "Little Rock Nine," will recall the events of 1957, when he and eight classmates became the first black students to attend Central High School in Little Rock, Ark., during his Black History Month keynote address at Carnegie Mellon University. His talk will begin at 7 p.m., Thursday, Feb. 10 in McConomy Auditorium in CMU's University Center. The event is free and open to the public.
Green's senior year of high school began in September 1957, when Gov. Orval Fabus ordered the Arkansas National Guard to block Green and his fellow black classmates from entering Little Rock's Central High. The governor's refusal to uphold the U.S. Supreme Court decision Brown v. Board of Education prompted President Dwight Eisenhower to order the U.S. Army and Arkansas National Guard to protect the students as they entered the school. The "Little Rock Nine" encountered violence and verbal abuse throughout the school year.
After graduation, Green earned a bachelor's degree in social science and a master's degree in sociology from Michigan State University. He served as assistant secretary of Labor for Employment and Training under the Carter administration and as chair of the African Development Foundation during the Clinton administration. Green is now the managing director of public finance for Lehman Brothers' Washington, D.C., office.
In 1999, President Clinton presented the "Little Rock Nine" with the Congressional Gold Medal, the highest honor given to a civilian. Several books, movies and documentaries have been produced about the students' experiences, including the "The Ernest Green Story," which premiered on the Disney Chanel in 1993.
A full schedule of Black History month events is available at: http://www.studentaffairs.cmu.edu/dean/multicultural/festival/blackhistory.html.

###

Pictured above is Ernest Green, a member of the "Little Rock Nine."