February 22, 2011
Press Release: CMU Creative Writing Student Mackenzie Evan Smith Wins Henry Luce Foundation Scholarship
Luce Scholars Program Designed To Enhance Understanding of Asia Among Future American Leaders
Contact: Shilo Raube / 412-268-6094 / sraube@andrew.cmu.edu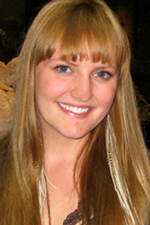 PITTSBURGH—Carnegie Mellon University senior Mackenzie Evan Smith has won a prestigious
Henry Luce Foundation Scholarship.
Smith, a
creative writing major
within the
Department of English,
was one of 18 students and young professionals chosen to participate in the
Luce Scholars Program
, an initiative that enables students to increase their knowledge and awareness of Asia by living and working in an Asian country of their choice.      
Jennifer Keating-Miller, assistant director of
CMU's Fellowships and Scholarships Office (FSO)
, and Stephanie Wallach, assistant vice provost for undergraduate education, worked very closely with Smith on every aspect of her Luce application, from the very beginnings to the final interview stage. According to Wallach, Smith stood out as a remarkable young woman.      
"Mackenzie is smart, adventuresome, creative, motivated and a great deal of fun. She is a real representative of the diverse talents that characterize our Carnegie Mellon undergraduates," Wallach said.       
When Smith transferred to Carnegie Mellon as a junior, she began looking for opportunities to combine travel and creative writing — something she has been doing for a big part of her life — and the Luce Scholarship seemed like a perfect fit.       
Prior to college, Smith worked at a Girl Scouting center in Switzerland and aboard a tall ship as a Bosun's Mate in the Caribbean and Mediterranean seas. In 2006, she solo hiked the Appalachian Trail from Georgia to Maine — an experience that became the basis for a creative writing fellowship project, "The Appalachian Trail: Understanding Its Impact and Meaning in Pennsylvania Communities through Creative Nonfiction." Smith is currently combining that work with her experiences traveling in North Africa and the Middle East for her senior honor thesis, a travel essay collection entitled,
"The Naked Note Taker."
"Mackenzie is a wonderfully curious soul who has already ventured wide and far in the world, bringing with her a brilliant mind, a respect for other cultures that keeps deepening, a gift for language, and a phenomenal sense of adventure," said
Jane McCafferty,
associate professor of English and Smith's thesis adviser. "She's a very good writer and we'll probably all be reading her books some day. I feel lucky to have encountered her here, and will really miss her when she's gone."      
Previously, Smith received a Benjamin A. Gilman Scholarship in Morocco, a Phi Theta Kappa National Honors Society Scholarship and a CMU Summer Undergraduate Research Fellowship. She continually impresses her professors, both as a student and person.
Jim Daniels
, the Thomas Stockham Baker Professor of English, said that Smith is a unique student, and he does not use that term lightly.      
"In my 30 years teaching at Carnegie Mellon, I have not encountered a student like Mackenzie," he said. "She has an openness and enthusiasm about learning both in and outside of the classroom, and she has the best kind of ambition — she's ambitious for improving the world, not just her own resume. She is clearly committed to making the world a better place, not just in the most idealistic sense of that familiar phrase, but on the ground level. Her enthusiasm for learning and applying that learning to her life is both obvious and contagious. While she has already seen more of the world than most of us will in our lifetimes, her travel experiences just seem to make her more hungry to see and experience new people and places."      
The 2011-2012 Luce Scholars will leave June 21 for a two-month orientation and training program in their host countries. While living and working in her yet-to-be-chosen destination, Smith plans to work on her fiction and nonfiction collections while gaining more knowledge about the Asian culture.      
"I'm beyond excited, thrilled and surprised at receiving a Luce Scholarship," Smith said. "I hope to write as much as possible and engage with the local writing community. I want to be pushed out of my comfort zone."      
Smith credits Carnegie Mellon and the Creative Writing Program with giving her opportunities she would not have had otherwise, including the Luce Scholarship. While at CMU, Smith has worked as an editorial assistant for
Creative Nonfiction
and
Carnegie Mellon University Press
and as a book intern at the
Pittsburgh Post-Gazette.
Her writing has appeared or is forthcoming in the Pittsburgh Post-Gazette, TriQuarterly and Her Campus, and she was selected as a finalist for the 2009 Alexander Patterson Cappon Prize for Fiction.      
###
Pictured above is Mackenzie Evan Smith.