February 01, 2011
Press Release: CMU's Jim Daniels Has Little Talk With Academia, Musicians in New Poetry Book
Published by Carnegie Mellon University Press, "Having a Little Talk with Capital P Poetry" Tells Wide-Ranging Stories, Pitting Cynicism Against a Sense of Wonder
Contact: Shilo Raube / 412-268-6094 / sraube@andrew.cmu.edu
PITTSBURGH—
Jim Daniels
is a poet who flawlessly captures our culture and everyday lives in poetry that leaves readers wanting more.       
In his latest book,
"Having a Little Talk with Capital P Poetry,"
Daniels, the Thomas Stockham Baker Professor of
English
at Carnegie Mellon University, tackles a variety of topics from living in Detroit and Pittsburgh and differences between childhood and parenthood, to meditating on memory and loss and confronting issues in everyday life. He also riffs on popular music with "Esperantos," poems attempting to capture what is universal about music, and introduces a new character — "the Tenured Guy" — to examine some of the less noble aspects of academia.      
"I've been teaching for over 30 years but haven't written much about academic life. I wanted to try and show how a work environment can affect a person. 'Tenured Guy' lets the job get the best of him," Daniels said.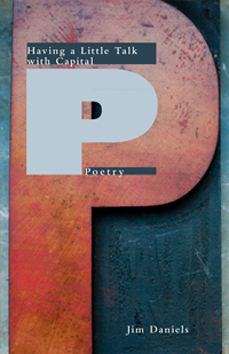 In the Esperantos section, Daniels explained that he wanted to use the failed universal language to describe what is moving about music. "I chose distinctive voices — David Bowie, Frank Sinatra, James Brown — and tried to write poems that capture in words what is often impossible to capture in words about music.  I listened to the music while writing for inspiration, and it challenged me as a writer and took me out of a narrative poem structure," he said.      
Two other sections in the book, "Hole in the Theory" and "Defeat in the City Game," deal with pop culture and family themes, respectively. Daniels wrote the title poem to summarize how he has gone against traditional poetry styles throughout his career.      
Over his career, Daniels has published 11 other poetry books and three collections of short stories.  In 2010, he collaborated with CMU professors Jane McCafferty and Charlee Brodsky on
"From Milltown to Malltown,"
which combines poetry and photography to explore the transformation of Homestead, Pa., from the once thriving steel-producing capital of the world to an area divided. Daniels also has written three films, including last fall's
"Mr. Pleasant,"
and edited or co-edited four anthologies.      
Daniels poetry has appeared in the "Pushcart Prize," "Best American Poetry," Billy Collins' "Poetry 180" and Ted Koosers' "American Life in Poetry" series. In addition, his poem "Factory Love" has been
reproduced on the roof of a racecar
. His other recognitions include the Brittingham Prize for Poetry, the Blue Lynx Poetry Prize, the Tillie Olsen Prize, and two fellowships from both the National Endowment for the Arts and Pennsylvania Council on the Arts.      
Published by Carnegie Mellon University Press, more information about "Having a Little Talk with Capital P Poetry" can be found on the book's
Facebook page
. Or, watch a video of Daniels reading three poems from his latest collection at
http://www.youtube.com/watch?v=kO5OhIu83CM
.
###