February 01, 2011
Press Release: Carnegie Mellon's School of Drama To Bring "25th Annual Putnam County Spelling Bee" to New Hazlett
Award-winning Musical Will Be First CMU Production at "One of Pittsburgh's Most Progressive and Active Theaters," Feb. 17-26
Contact: Eric Sloss / 412-268-5765 / ecs@andrew.cmu.edu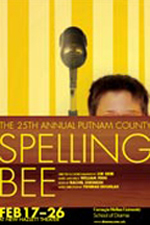 PITTSBURGH—In the hit musical "The 25th Annual Putnam County Spelling Bee," a charming and quirky group of outsiders discover they can stand out and fit in at the same time. The
School of Drama
at Carnegie Mellon University will present this award-winning show Feb. 17 - 26 in the New Hazlett Theater, Allegheny Square East, on Pittsburgh's Northside.      
"Spelling Bee is a force field of theatricality that champions eccentric individuals facing global conformity," said
Peter Cooke
, head of the School of Drama. "Master director Joe Deer (MFA '96), an alumnus of the School of Drama, returns to stage this vibrant, charm-filled and infectious musical with a dazzling group of singers, actors and dancers."      
The musical follows six semi-pubescent middle-schoolers competing to be the best speller and equally quirky adult moderators who barely managed to escape childhood themselves. In this hilarious tale, they learn the lesson that winning is not everything, and losing does not necessarily make you a loser.      
First directed on Broadway in 2005 by James Lapine, the musical is the winner of two Tony awards, two Theatre World awards, three Drama Desk awards and two Lucille Lortel awards.      
This will be the first CMU School of Drama production at the New Hazlett Theater. "The School of Drama's faculty and students are excited to present this production at the New Hazlett Theater," Cooke said. "This is a wonderful way to get the students off campus and into the city while offering residents the opportunity to see this comical musical in one of Pittsburgh's most progressive and active theaters."       
"The 25th Annual Putnam County Spelling Bee" is based on the book by Rachel Sheinkin, with music and lyrics by William Finn. The School of Drama performance is directed and choreographed by Deer with music direction by Associate Professor Thomas Douglas.      
Ticket prices range from $25 to $29. Discounts are available for seniors and students. For additional information about the musical, contact the School of Drama box office at (412) 268-2407 between noon and 5 p.m., Monday through Friday. For more information on the 2010-2011 season of plays or to purchase tickets online, visit
http://www.drama.cmu.edu
.
###