February 17, 2011
Press Release: Carnegie Mellon School of Music's Ronald Zollman Hired as Principal Guest Conductor of Prague Radio Symphony Orchestra
Contact:  Eric Sloss / 412-268-5765 / ecs@andrew.cmu.edu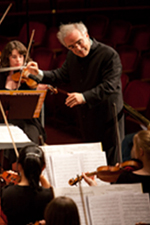 PITTSBURGH—The Prague Radio Symphony Orchestra has hired
Ronald Zollman
, director of orchestral studies at Carnegie Mellon University's
School of Music
, as principal guest conductor for the 2011-2012 concert season.      
"Ronald Zollman is emblematic of our faculty at the CMU School of Music," said Noel Zahler, head of the Music School. "He is both a sought-after world-class performer and a great educator. We congratulate Professor Zollman on his new appointment and anticipate opportunities for our students in Prague."      
The conductor has worked with the Prague Radio Symphony Orchestra several times in recent years. His last performance with the orchestra was a concert on January 25, 2010, when he conducted works by Josef Suk, Wolfgang Amadeus Mozart and Dimitri Shostakovich.      
The Prague Radio Symphony Orchestra is one of the oldest symphonies in the Czech Republic. Regular radio broadcasts of classical music began in the Czech Republic in May 1923. Because of the radio program's popularity, it was soon realized that a full-time dedicated orchestra was required. On Oct. 1, 1926, the Radiojournal Orchestra, which became the Prague Radio Symphony Orchestra, was founded under conductor Jozka Charvát.      
Václav Talich, Václav Neumann, Libor Pesek, Charles Munch, Franz Konwitschny, Hermann Scherchen, Gennady Rozhdestvensky, Charles Mackerras and others have all made guest appearances with the radio orchestra. Sergei Prokofiev, Ottorino Respighi, Arthur Honegger, Aram Khachaturian, Ernst Krenek and Krzysztof Penderecki have presented their works with the orchestra. The Prague Radio Symphony Orchestra has a commitment to playing contemporary music.      
Maestro Zollman has appeared as a guest conductor with the best orchestras on all continents including the BBC Symphony Orchestra, Orchestre de la Suisse Romande, Residentie Orchestra, Orchester des Hessischen Rundfunks, Scottish Chamber Orchestra, San Diego Symphony, Sydney Symphony Orchestra, Shanghai Symphony Orchestra, Tokyo Philharmonic Orchestra and Bamberger Symphoniker. He has been the guest of major European festivals, such as Edinburgh, Flanders, Warsaw Autumn, Gulbenkian Encounters of Contemporary Music in Lisbon and London Proms.
###
Pictured above is Ronald Zollman, director of orchestral studies at Carnegie Mellon.